Here are the results of PATHFINDER MAGAZINE's 1940 poll concerning FDR's controversial run for a third term. The pollsters were interested in discovering the voter's thoughts on the third term as a concept for future presidents - rather than gaining a better understanding as to the popularity of President Roosevelt.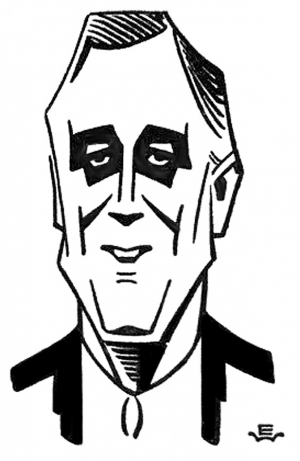 The poll considered the opinions of citizens who voted for FDR in 1936 and those who sided with Republican Alf Landon in the same election. They concluded that 68.6% of poll's participants were against a third presidential term.
Gathered from all the various battlefronts around the globe, the attached article serves as a archive of spontaneous reactions uttered by a smattering of stunned GIs when they heard that President Roosevelt had died:
"Pvt. Howard McWaters of Nevada City, California, just released from the hospital and waiting to go back to the Americal Division, shook his head slowly. 'Roosevelt made a lot of mistakes,' he said. 'But I think he did the best he could, and when he made mistakes he usually admitted it. Nobody could compare with him as President.'"
FDR's predecessor, Herbert Hoover, wrote a series of articles concerning his own presidency that appeared on the pages of COLLIER'S MAGAZINE throughout the spring of 1952. The sixth installment was devoted to his 1932 reelection bid against FDR and the Roosevelt Hoover remembered was an under-handed campaigner who surrounded himself with liars and all sorts of other aids and speechwriters who took liberties with the truth in all matter's involving the record of Hoover's administration.
Appearing in CONFIDENTIAL MAGAZINE during the early months of 1954 were these pages from a memoir that was written by the sergeant who rode herd on the New York Police Security Detail for President Franklin Roosevelt. As far as we can figure, Prisoner at Hyde Park by New York State Policeman Edward J. Dougherty was never published, but as you will soon read, it was full of many obscure and unheard of stories of FDR and the world he dominated while in the Empire State.
President Franklin Delano Roosevelt was well-known for cracking wise about the members of the American business community: stock brokers, "speculators", company functionaries and the leading corporate executives during the Great Depression - believing that there actually could be an economy worth saving if they didn't exist. Throughout the Thirties the New Deal launched numerous tax laws and assorted other pieces of legislative that served only to stymy competition, raise prices and slow all economic growth. The editors of COLLIER'S MAGAZINE published this spirited and rational defense of corporate America in 1938 and it is attached herein:
"American business, whatever its limitations, has produced a better living for more people than any other system of production... The American big-business system has fed people better and more generously. It has provided more convenient and more wholesome shelter. It has distributed vastly more of the mechanical aids to civilized living."
"Let the [government] bureaucrats stop badgering business and [the] relieved businessmen will, on their part, be only too willing to co-operate. Out of such a rationale, prosperity will return with amazing rapidity".
Click here to read about FDR's tax plan from 1935.
Although the Roosevelt administration believed that integrating the armed forces was far too risky a proposition during wartime, it did take one important step to insure that fair hiring practices were followed by all businesses that held defense contracts with the Federal government; during the summer of 1941, while American industry was still playing its roll as "the arsenal of democracy", a law was passed making such discrimination a crime, and the attached editorial from COLLIER"S MAGAZINE applauded the President for doing the right thing:
"For our money, the President's finest single act in the national emergency to date is his loud-voiced demand for an end to all racial discrimination in hiring workers for the defense industries."
"Any loyal inhabitant of this country, says the President, is entitled to a chance at any of these jobs, whether he be of German, Italian, colored, Jewish or any other descent. We don't know of anything more timely that could be said just now."