The American Discovery of Yoga (Click Magazine, 1942)
Attached is a photo-essay from the fashionable minds who lorded-over CLICK MAGAZINE in 1942. They were well in tune with the beauty cures that fashion's progeny would be promoting seventy years hence and in this article they uttered sweet words on behalf of Yoga:

"YOGA is the smart way to strength of body, peace of mind and beauty of form and for an ever-growing group of people in-the-know. Sitting with folded legs and sucking in their abdominal muscles, and controlling their breathing to Oriental rhythms, these practitioners have found scientific validity in the centuries - old studies of Yogis in India..."
The First Celebrity Hairdresser (Coronet Magazine, 1955)
Before there was a Louis Alexandre Raimon, or Vidal Sassoon or even a Jose Eber, there was Antoni Cierplikowski, better known as "Antoine of Paris" (1884 – 1976). He was the premiere hairdresser throughout much of the last century and his illustrious client list included such names as Carmen Polo, 1st Lady of Meirás, Lady Mendl, the Duchess of Windsor, Greta Garbo, Sarah Bernhardt, Mata Hari and Lady Wimborne - the list goes on and on. It has been estimated that after he opened his 67 salons, that stretched from Hollywood to Paris, his mark had made on over five million women.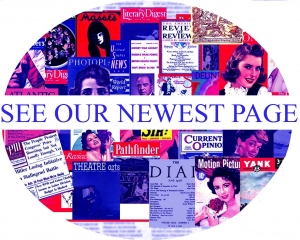 Yet, as this article makes clear, to simply write the man off as a "celebrity hairstylist" is to ignore his myriad innovations:
• Antoine was the creator of the Bob.
• He created the Perm.
• He was the first to tint gray hair to blue.
• He was the first to apply a lacquer to hair as a fixative.
• Antoine was the first to tinge isolated elements within a hairdo blond as a streaked highlight.
Who knew?
1940s Makeup and W.W. II (Click Magazine, 1942)
Illustrated with over eleven pictures of the most popular American beauty aids used throughout the Forties, this is an interesting look at how the Second World War effected the U.S. cosmetic industry and how that same industry benefited the American war effort. Students of history will be reminded that when a nation commits itself to a state of total war, all available elements within a government's grasp will be picked over by that country's military; even makeup.
"If you're following a routine of 'beauty as usual' with qualms of conscience, believing that cosmetics and toiletries use materials essential to the war machine, know for certain that if Uncle Sam needed your lipstick for bombs and bullets, he'd have gotten it first."
The U.S. cosmetics industry was effected in many ways, read the article and find out.
Clicke here to read a 1954 article about Marilyn Monroe.
Goodbye to the Pompadour (Click Magazine, 1944)
A late-breaking news report from the fashion editors at CLICK MAGAZINE announced that the pompadour hairstyle has been given the brush-off: grab your combs, girls, because parts are back in style...
During the Second World War, hair dye was not simply used by women;click here to read about the men who needed it.
Helena Rubenstein on Youth, Beauty and Commerce (The American Magazine, 1922)
Prior to the creation of cosmetic surgery, with odd procedures like tummy tucks and butt lifts, there was Helena Rubenstein (1871 - 1965), who had a long and stunning career in the cosmetic business and who is remembered for once having said:
"There are no ugly women, only lazy ones."
In this interesting 1922 interview, the matron saint of cosmetics made some very bright remarks on the issue of beauty, glamor and vanity.