Silent Movie History Film Clips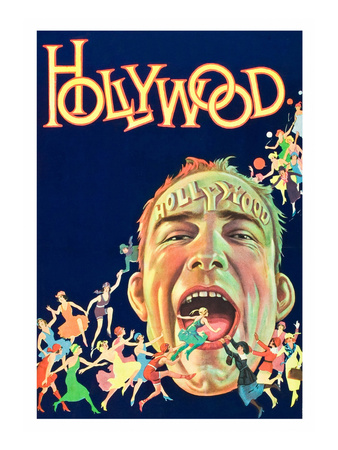 Hollywood
•Hollywood Unknowns: A History of Extras, Bit Players, and Stand-Ins•

In 1923, FDR wrote a screenplay for a silent film; click here to read about it.

"The longest, loudest laugh in movie history exploded in theaters all over the world in 1920. That colossal, eruptive, cumulative bellow of laughter closed a two reel silent comedy called HARD LUCK, starring that master of slapstick and deadpan pantomime, Buster Keaton."
2013 Anno Domini marks the 100th anniversary of the Hollywood film industry. With this in mind it is entirely fitting and proper that we post this thumbnail history that outlines how it all got rolling, as told by the jaded Robert Sherwood, an early film critic who witnessed much of it (although he incorrectly dated the first Hollywood feature film to 1912).
"Hollywood history begins with four men: Jesse Lasky, Sam Goldwyn, Cecil B. DeMille, Dustin Farnum and a silent film called "The Squaw Man"...
By 1921 the city of Los Angeles began to seriously grow, and the expansion was not simply due to the arrival of performers and extras and all manner of craftsmen that are required to launch a film production - but the city was also bringing in the sorts necessary to support a wealthy urban environment. Every thriving city needs a support system, and Hollywood imported tailors, milliners, chefs, architects and various other tastemakers who in turn attracted realtors, contractors, merchants and restauranteurs.
Thie journalist who penned the attached history pointed out that the films produced in that city were generating wealth in other parts of the nation; a wealth that was manifested not merely in the form of various Hollywood-oriented magazines, but in the construction of lavish and ornate theaters in which the audiences could sit comfortably in large numbers to enjoy the films. Gone were the days when hardware stores were rented in order that people could pay a modest fee to sit on crates and watch a film - the age of the film exhibitor had arrived. Money was being made in Hollywood and everyone was going there; even those who swore that they never would.
The attached article is about Sessue Hayakawa (1889 – 1973), the first Asian actor to achieve star status in Hollywood:
"No, Sessue Hayakawa, the world's most noted Japanese photoplay actor, does not dwell in a papier-mache house amid tea-cup scenery. He is working in pictures in Los Angeles, and he lives in a 'regular' bungalow, furnished in mission oak, and dresses very modishly according to American standards."
"Mr. Hayakawa's first picture success was in 'The Typhoon', following which he appeared in 'The Wrath of the Gods', and his latest success is in his role of the Japanese in the Lasky production of 'The Cheat', with Fannie Ward."

MORE ARTICLES >>> PAGE: *

1

* 2 * 3 * 4 * 5 * 6 * 7 * 8 * 9 * > NEXT