Silent Movie History Film Clips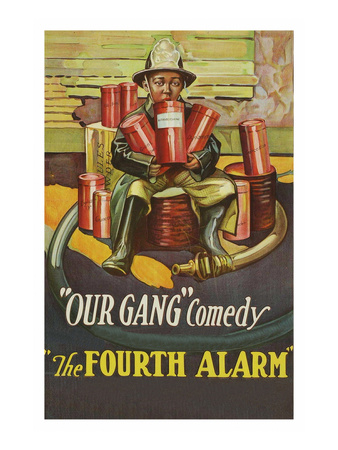 The Fourth Alarm - "Our G...
•Hollywood Unknowns: A History of Extras, Bit Players, and Stand-Ins•

In 1923, FDR wrote a screenplay for a silent film; click here to read about it.

Attached is a glowing review that praises the dramatic talents of a seven-year-old boy: Allen Clayton Hoskins (aka, "Farina") - one of the few African-Americans to have been chosen to perform in the ensemble cast that made up the "Our Gang" comedies.
"One of the most gifted thespians in the silent drama is Farina, the negro child actor whose facile expression has created no end of comment... Placed in the midst of a group of children, all of whom have been tutored over a period of several years in the intricacies of and politics of photoplay acting, Farina has created a high standard of achievement... this troupin' Nubian has given the others of the gang plenty to aim at in the form of a thespic target."
Screen director D.W. Griffith declared in this article that youthful, energetic performers and writers are needed in the young and vigorous film industry of the Twenties:
"We need youth because the most successful screen stars are not harassed by the technique of the older stage and the requirements of the newer art are very largely different. So a new kind of actor has come to be—the screen actor—just as a new kind of writer is coming to be—the screen-writer. But that isn't all!... An audience loves a sweet and kindly face on the screen as in life. The surest guide in the world to lead us out of our daily troubles is a little star who is sweet and gentle and kind, like youth with all its yearnings and simplicity."

MORE ARTICLES >>> PAGE: *

1

* 2 * 3 * 4 * 5 * 6 * 7 * 8 * 9 * 10 * > NEXT