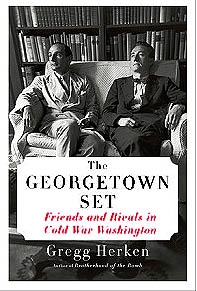 "The Truman Doctrine is the only road to lasting peace. Twice within 30 years the stubbornly-observed practice of 'minding our business' has brought war."
Stalin's death on March 5, 1953 generated a tremendous amount of uncertainty in the West, and a good deal of it is reflected in the attached column. A list of possible successors was provided; two of the names played an immediate roll in the governance of the Soviet Union: Georgy Malenkov (1902 – 1988) - who ruled for three days, until he was replaced by Nikolai Bulganin (1895 – 1975). Bulganin ran the shop until he, too, was replaced by Stalin's right-hand man: Nikita Khrushchev (1894 – 1971) - who was known in some corners as "the hangman of the Ukraine".
As the April of 1949 was winding down, 11 members of the Communist Party U.S.A. were standing trial in a Federal courtroom spilling every secret they had in an all-out effort to lighten their load further down the road. Among these classified plots was a 1930s plan to invade the United States and create two separate Soviet "republics" - one White, the other Black. The region they had in mind for the African-Americans would cover nine of the old Confederate states.
A Quick Read About Soviet-Enforced Atheism Behind the Iron Curtain...
Illustrated with a chart that shows how much the U.S. Navy had shrunk after W.W. II and then expanded anew when faced with the war in Korea, this short article pertains to the various steps Congress was taking to meet the Soviet challenges abroad:
"A $2.3 billion ship-building and repair program, just approved by President Truman, will add a 57,800-ton carrier and 172 other new vessels to the fleet. And 291 more are to be demothballed-including 6 carriers, 12 cruisers, 194 destroyers. [Stalin was incapable of responding to such growth, so he simply ordered the production of additional A-Bombs]