H.R. Knickerbocker (1898 – 1949), foreign correspondent for the Hearst papers, recalled a 1938 conversation he had with the noted Swiss psychiatrist Carl Jung concerning Adolf Hitler and his broad appeal among the German people: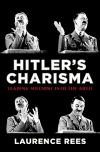 "Now the secret of Hitler's power is not that Hitler has an unconscious more plentifully stored than yours and mine, Hitler's secret is twofold; first, that his unconscious has exceptional access to his consciousness, and second, that he allows himself to be moved by it. He is like a man who listens intently to a stream of suggestions in a whispered voice from a mysterious source, and then acts upon them... In our case, even if occasionally our unconscious does reach us in dreams, we have too much rationality to obey it - but Hitler listens and obeys. The true leader is always led."
This article appeared in a 1942 issue of OMNIBOOKS as a promotion for Is Tomorrow Hitler's? 200 Questions on the Battle of Mankind
by H.R. Knickerbocker.
Read a magazine piece that compares the authoritarian addresses of both Hitler and Stalin - maybe you will see how they differed - we couldn't.
Hearst reporter H.R. Knickerbocker (1898 – 1949) had been closely watching Hitler since 1923 and pointed out that on April 29, 1941 the Axis forces had printed a "trial balloon" on the pages of the JAPAN TIMES ADVERTISER that clearly indicated the peace terms that were acceptable to the Nazis.
Attached is Knickerbocker's outline of this proposal, as well as the correspondent's astute commentary that he had prepared for his 1942 bestseller, Is Tomorrow Hitler's?
:
"It is not a negotiated peace, it is a dictated peace...The Axis statement begins with the declaration that the day of small or weak nations is over, and no nation which cannot stand on its own feet may be permitted to exist... The nations called upon to settle world peace would be Germany, with Italy as a junior partner, Japan, the British Empire and the United States."