H.R. Knickerbocker (1898 – 1949), foreign correspondent for the Hearst papers, recalled a 1938 conversation he had with the noted Swiss psychiatrist Carl Jung concerning Adolf Hitler and his broad appeal among the German people: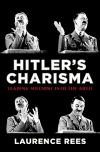 "Now the secret of Hitler's power is not that Hitler has an unconscious more plentifully stored than yours and mine, Hitler's secret is twofold; first, that his unconscious has exceptional access to his consciousness, and second, that he allows himself to be moved by it. He is like a man who listens intently to a stream of suggestions in a whispered voice from a mysterious source, and then acts upon them... In our case, even if occasionally our unconscious does reach us in dreams, we have too much rationality to obey it - but Hitler listens and obeys. The true leader is always led."
This article appeared in a 1942 issue of OMNIBOOKS as a promotion for Is Tomorrow Hitler's? 200 Questions on the Battle of Mankind
by H.R. Knickerbocker.