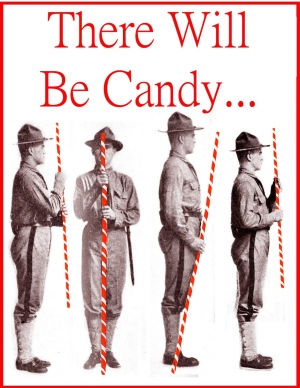 The World War I American uniform data attached herein answers the question as to how often Doughboy uniforms would wear out and need replacing. This information was all transcribed by U.S. Army Quartermaster Corps and published in a book titled THE OFFICIAL RECORD OF THE UNITED STATES IN THE WORLD WAR (1922).
Oddly, the other U.S. magazine that concerned itself with matters mechanical, "Scientific American", also explored the question of World War One uniform and equipment costs during the same same month -however they took the question a bit more seriously and hired an artist to address the concern. The cost illustration dealing with uniforms and equipment was printed on their December, 1917 cover which we offer herein.
FYI: Doughboy service jacket cost the U.S. taxpayer $15.20-while the Doughboy overcoat cost $14.92...

•• A Film Clip that Explains the Problems Inherit with the W.W. I U.S. Army Back Pack ••
For it's October issue, the editors of VANITY FAIR magazine stepped up to the plate and did their bit with this splendid review of all the finest uniform apparel that New York City offered it's "silk stocking" officers. The article is nicely illustrated with photographs of a double-breasted mackinaw coat, two officer blouses (one of a wool-silk blend), a classic silk knit service tie as well as a very fine trench boot.
New From Amazon: Doughboys on the Great War:
How American Soldiers Viewed Their Military Experience