Inasmuch as the over-worked crew at THE STARS AND STRIPES would have preferred to label the battle of Chateau-Thierry (July 18 - August 31, 1918) as the "first great test of Yank and Boche" (as this screamer reads), the contest that fits that headline actually took place some weeks earlier, at Seicheprey (April 20) and was soon followed with another engagement at Cantigny (May 28 - 31).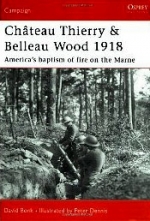 The American performance at the battle of Chateau-Thierry proved to General Foche that the Americans had the necessary stuff, and it was widely recognized that the Doughboys played the key roll in keeping the Germans out of Paris.
The attached STARS AND STRIPES article is extremely detailed as to the individual units (both French and American) that participated in rolling back the Germans along the Marne.