"The shock of modern battle is so severe to nervous systems that the hair color of thousands of young men in the Pacific and European theaters of war has turned gray overnight."
Not surprisingly, the young men in question had no interest in resembling their grandfathers and so the services of a patriotic hair dye manufacturing firm were secured.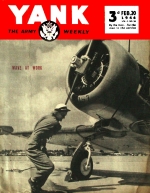 Four years of global carnage did not simply usher in an era of more destructive weaponry for the inhabitants of Earth to ponder; it also gave cause for tremendous improvements in medical care. This 1945 article anticipated a much better world that would be created from the smouldering remains of Europe and Asia - a world that was better prepared to address the health requirements of the diseased and the burned. The medical advancements that were forged between the years 1939 through 1945 saw remarkable improvements in surgery and anesthesia and brought new light on how the medical establishment understood blood and the treatment of venereal disease.
Writing from France for the Hearst papers in 1940, H.R. Knickerbocker (1898 – 1949) had witnessed the total collapse of the French Army.
His 1941 book Knickerbocker clearly outlined his reasoning as to why Nazi Germany was able to overwhelm the French and turn their withdraw into a route. In the attached seven pages the author answered the question "Why did France fall?":
"Because the French people were hypnotized by their low birth rate; because their Maginot Line had imprisoned their army; because they had no Churchill to inspire and lead them ... their comparative lack of weapons would not have mattered... if they had had the spirit to win they could have held the Germans until the deficiency could be made up."
"We were men on a chess board being pushed around by people we never saw, by orders we never read, going to places we didn't know the names of, not knowing where the front was... praying that the 'old man' knew what he was doing".
"Was it the cold, the fear, the letterless days, the dark, the not knowing where or when or was it all of these? ...Whatever it was, wherever and whenever we were scared because we were strictly on our own. Except for the few basic things that we learned in the States, like blackout and water discipline, all this was new and different, the situations never seemed to apply..."
The passage above was found in a year book that told the tale of the 397th (U.S.) Infantry Regiment, of the 100th Division. The 100th Division was on the German's tale all the way to Berlin.