This is an eyewitness report that must have seemed quite disturbing to American magazine readers of 1950; it is an article that announced to the West that there was a resurgence of Nazism springing anew from the rubble of post-war Germany.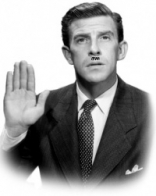 Filed from Berlin by the respected American journalist William Shirer (1904 – 1993: author of Berlin Diary
and The Rise and Fall of the Third Reich
), he read the findings of a German opinion poll revealing that
•A majority of Germans tended to hold that Nazism was good, when properly administered.
•Antisemitism was rapidly assuming its customary spot within the German soul.
•War guilt was largely non-existent and Nazi publications were rolling off the smaller presses with predictable regularity.
Shirer also reported that unrepentant, senior Nazis like Max Amann were getting out of prison, expecting to wield the power they once enjoyed as Hitler's yes-men.
By 1960, German schools would remove THE DIARY of ANN FRANK from the curriculum...
In this article the proud father of Anne Frank, Otto Frank (1889 – 1980), explains that by the late Fifties it seemed more and more teenagers were contacting him to say that very few parents or teachers seemed willing to discuss the Nazi years in Germany. These inquiries were too often dismissed as bothersome or simply brushed away with hasty answers like, "The Nazis built the Autobahns".
Otto Frank points out that this was not always the case, and goes on to recall that there existed a more sympathetic and regretful Germany for at least a decade after the war. Yet, in 1960 he sensed that there existed a subtle movement to whitewash Hitler; a battle was being waged for the mind of this teenage generation:
"It is being fought largely between the guilt-ridden older generation responsible for Hitler and a middle generation, too young to have been deeply involved with Nazism, but old enough to have fought and been hurt by the war."
Suggested Reading: A German Generation
Counted among the hundreds of thousands of captured Nazi combatants during the war were thousands of anti-Nazi German draftees who were predictably alienated from the majority of German P.O.W.s in their respective camps. Subjected to kangaroo courts, hazings and random acts of brutality, these Germans were immediately recognized by their captors as a vital element that could prove helpful in the process of rebuilding Germany when the war reached an end.
And so it was early in 1944 when the U.S. Army's Special Projects Division of the Office of the Provost Marshal General was established in order to take on the enormous task of re-educating these German prisoners of war
, all 360,000 of them, in order that they might clearly understand the benefits and virtues of a representative form of government. This article tells the story of their education within the confines of two special encampments that were established just for this purpose, and their repatriation to Germany, when they saw the all that fascism had willed to their countrymen.
An important news item came across the wire in mid-may, 1949:
"The delegates from Western Germany's 11 states gave final approval to the draft of the constitution for the new Federal Republic of Germany."
- but what matter was this to the thousands of Bavarians who were highly distrustful of the new government; they had their own gloried past that was largely due to the royal family known as the House of Wittelsbach:
"A strong faction is campaigning for the return to the throne of former Crown Prince Rupprecht. The eldest son of King Ludwig III, deposed in 1918, Rupprecht is a tall, thin man of vast education. He led Bavarian troops under Kaiser Wilhelm. In World War II, he was exiled to Italy. Since then he has been living with his family at Leutstetten Castle on Lake Starnberg near Munich."
"If the Bavarian people desire monarchy, I shall respect their desire."
Nice work if you can get it...
Franz von Papen (1879 – 1969) was born into the German nobility; he worked as a diplomat, a politician and during the two World Wars he served as an intelligence officer. This article concerns the period in von Papen's life when, having been acquitted earlier by the international tribunal, he found himself once more in the docket:
"This time he faced a court of fellow countrymen... evidence against him was damaging. A fellow trusted lieutenant disputed von Papen's defense - claiming that as Vice Chancellor under Hitler he had worked for a more moderate form of Nazism."
"Oscar von Hindenburg, son of Hitler's predecessor as Reich president, Paul von Hindenburg, made an even more serious charge: He accused von Papen of inserting into his late father's will a paragraph giving Hindenburg's blessing to Hitler. This, he said, gave Hitler a new stature in the eyes of Germans."
We were fascinated to learn that the officers of the Nuremberg court had selected 250,000 people who were marked for trial; the court would be in session until 2047 had not an alternative plan been chosen.
"Barely existing on brief rations of food and other necessities, the three million-odd Germans in 1948 Berlin are cold and afraid. In their battle for survival they spy on one another, steal coffins from the dead for firewood and raid garbage cans to eat."
Just how accurate was the Allied bombing campaign of Germany? Click here and find out.