A two page magazine article about U.S.S. Newcombe (DD-586), a destroyer which enjoyed the dubious distinction of being the first American vessel to suffer the very first Kamikaze attacks of the war (April 6, 1945: off Okinawa, Ryukyu Islands):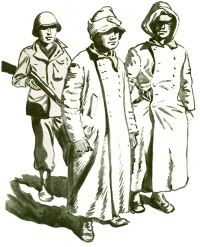 "Then the plane shot past them, ripped through the gun mount and shattered itself against the afterstack. There was a blinding flash. The "Newcombe" shuddered and rolled heavily to starboard."
With the fall of imperial Japan, YANK correspondent Robert MacMillan was
one of the very first journalists to interview the Japanese Kamikaze pilot
Norio Okamoto, which allowed his readers to gain some understanding as
to how the Kamikaze Corps operated:
"Okomoto's story took all the wind -the Divine Wind - out of the Kamikaze sails. Event the interpreter, a Japanese civilian, was surprised. He had worked for radio Tokyo and while he knew a lot of the propaganda stories were ridiculous, he had believed the Kamikaze legend."
Click here to read articles about post-war Japan.
•Fascinating Color Footage of Japan During the War Years: 1937 - 1945•