"Ever since Sigmund Freud came right out and said in public print that sex is important to happiness, people have been wondering: How important?"
So begins the attached article by the noted psychiatrist Edrita Fried, who expanded upon her introductory sentence by clarifying that Freud never taught that this happiness was entirely dependent upon sex. In the four pages that followed, Dr. Fried illustrated the issue of sex and happiness with assorted case studies from her own caseload, concluding that:
"The achievement of happiness and true sexual fulfillment makes strange demands on us... but no sensible person would say they are too great for the reward they offer."
Somewhat recent surveys on this same topic were conducted by the Social Indicators Research Journal
, their findings can be read by clicking the title link above.
From Amazon.com:
Sperm Wars: Infidelity, Sexual Conflict, and Other Bedroom Battles
and
Sperm Wars: The Science of Sex
An article that examines the once highly guarded chastity of American women between the years 1912 and 1946:
Of the women who married before 1912 - 12 percent were non-virgins upon marriage
Of the women who married during or immediately after W.W. I - 26 percent were non-virgins upon marriage
Of the women who married between 1922 and 1931 - 49 percent were non-virgins upon marriage
Of the women who married between 1932 and 1937 - 68 percent were non-virgins upon marriage
"A prostitute, intrigued by the monotony of her customers' questions, talks straight about her job. The hours, earnings, hazards, pleasures, advantages, drawbacks, opportunities for promotion, etc."
"Get a kick out of it? Sure - why not? That is, at least once or twice a day. It all depends on the customer. With some people you just naturally click. However, if we take our work seriously we pretend we like it - a clientele is the thing...If it's a frowzy guy with buck teeth and B.O. we hustle him through as fast as we can and hope never to see him again."
Click here to read about prostitution in the 1950s.
Click here to read a news piece about a prostitution blackmail scam that the L.A. mobster Micky Cohen had going in 1949 Hollywood.
*Watch a Funny Film Clip About This Most Ancient of Professions*
"At the beginning of World War II, our army was a mixture of callow boys and and domesticated men. The older men were homesick for wives and children, the younger men felt themselves on the verge of an adventure they didn't quite understand. While most were unsure of themselves, their need for women was painfully apparent...There were plenty of lonely wives, too, and it soon became evident that a fair number of them were committed to the belief that continence was bad for women."
Sex and the American GI in World War II France
A 1955 photo-essay about Bunny Yeager
, the first American pin-up model to grab a camera and achieve some measure of success in the low-fashion world of cheesecake photography.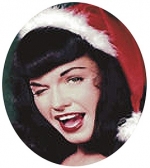 Working in the city of Miami, Yeager quickly found that she was the preferred photographer for many a model - all feeling secure in the knowledge that they would be safe from any inappropriate advances. Among these models was a lass whose greatest fame would arrive with the digital age: Bettie Page (1923 – 2008). When these six pics of Page were snapped, the two had been working steadily for the past year. It was Yeager who famously provided PLAYBOY MAGAZINE
with the image of Page wearing only a Santa hat for their 1955 Playmate of the Month centerfold.