The early producers of television programming knew that they had one clear advantage over movies and it was a slim one: convenience. Aside from that, there were multiple disadvantages that TV provided their quickly growing audience - the screens were small, the images were not in color and there weren't any big stars. To win over their audience they decided on a familiar lure that had withstood the test of time. When the big mucky-mucks in Hollywood saw that more and more people were failing to grab their coats and hats and head to the theaters, they responded in kind:
"As far as the indignant movie moguls could figure it, TV had taken unfair advantage by swiping a Hollywood developed product and projected it into every American home fortunate enough to sport a video tube. The product in question was non other than the under-draped female breast - and TV had really done an outstanding job in exploiting this potent weapon. The only answer, if movies were to survive, was to meet fire with fire, bombshell with bombshell. As plainly as possible, TV's Dagmar, a 39-incher, would be countered by an equally big gun fired from moviedom."
"Thus began the Battle of the Bulges, which is currently shaking the entertainment world to its barest foundations."
In 1954 French fashion designer Christian Dior disappointed a lot of men and women when he marginalized women's breasts in his latest fashion creations - this made numerous actresses in Hollywood wax poetic about the majesty of the feminine bust line read their thoughts here...
Click here to read about Marilyn Monroe and watch a terrific documentary about her life.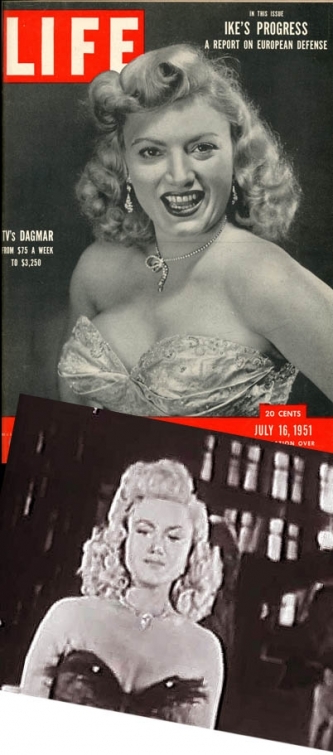 CLICK HERE to read about the beautiful "Blonde Battalions" who spied for the Nazis...
Click here to read a 1950s article about sex in advertising...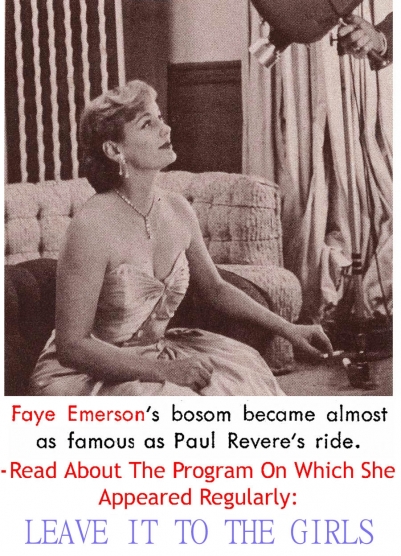 - two books on the topic from Amazon: