The attached is one from a series of articles that appeared in MOTION PICTURE MAGAZINE penned by a Hollywood insider during the high-fashion days of silent film. The reader will be alarmed to read that even as early as 1916, "plot-stealing" and other forms of Hollywood plagiarism were in full swing.
A few weeks earlier, a California Representative had introduced an anti-plagiarism bill to Congress.
Click here to read about the Hollywood plagiarism game of 1935.
Attached is a single page cartoon from 1916 that illustrated quite clearly that the relationship between movie fans and their film star magazines have not changed at all during the past ninety years.
Two articles from two different magazines reported the news that the World Champion Boxer of 1919, Jack Dempsey
(1895 – 1983), would soon try his hand at movie acting. The Vanity Fair item is actually a cartoon by that old sentimentalist, John Held, Jr
.(1889-1958).
In the future, other athletes would follow in his steps to Hollywood; his fellow boxer Gene Tunney would follow him out there eight years later (The Fighting Marines). Swimmers Buster Crabbe (Buck Rogers) and Johnny Weissmuller (Tarzan) got the fever and came out during the early days of sound movies.
A printable history of United Artists spanning the years 1919 through 1939 which also outlines why the organization was so original:
"[United Artists] introduced a new method into the industry. Heretofore producers and distributors had been the employers, paying salaries and sometimes a share of the profits to the stars. Under the United Artists system, the stars became their own employers. They had to do their own financing, but they received the producer profits that had formerly gone to their employers and each received his share of the profits of the distributing organization."
"When the Five O'Clock Whistle Blows in Hollywood" is attached; it appeared in VANITY FAIR eight years after Hollywood was declared the film capital of the world.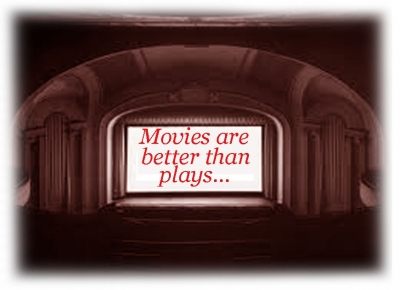 This single page cartoon was created by one of the great American caricaturists of the Twenties: Ralph Barton, and all the kingpins of the young empire are depicted (among others): Douglas Fairbanks, Marry Pickford, Buster Keaton, Harold Lloyd, Bebe Daniels, Bill Hart, Wallace Reed, Gloria Swanson, Nazimova, Charlie Chaplin, Jackie Coogan, Fatty Arbuckle and the writer Rupert Hughes.
Lording above them all, and represented simply by jodhpurs and riding boots, stands the founder of the feast - Cecil B. DeMille (and his brother).
Attached is the reminiscence of a movie-goer named Homer Dunne who recalled his feelings upon first attending a "moving photograph show" during the closing days of the Nineteenth Century. He described well the appearance of the rented shop-front, the swanky ticket-taker, the unimpressed audience and has a laugh on himself for failing to understand the significance of the medium.