An interview with the famous silent film comedian, "Fatty" Arbuckle, as it appeared in a forgotten Hollywood trade magazine. Accompanying the interview are eight lines of biographical information pertaining to his Hollywood career as it stood in the year 1916. This short profile first appeared in The Studio Directory of The Motion Picture News and will serve to answer some of the questions readers might have concerning his career, before it took it's tragic turn.
If you would like to read about the films of the Thirties, click here.
Click here to read about physical perfection during the Golden Age of Hollywood.
During the summer of 1920, Photoplay Magazine ran this glossary of movie terms with cartoons by Ralph Barton and doggerel verses by Howard Dietz.
With new technology came new terms that seemed odd to the ear (it should be remembered that this new technology did not involve the use of one's ear at all); words to be added to the nation's vocabulary were "fade-out", "shooting", "box-office" and "location".
"To "shoot" a scene is nothing new-
Directors should be shot at, too"
The attached is one from a series of articles that appeared in MOTION PICTURE MAGAZINE penned by a Hollywood insider during the high-fashion days of silent film. The reader will be alarmed to read that even as early as 1916, "plot-stealing" and other forms of Hollywood plagiarism were in full swing.
A few weeks earlier, a California Representative had introduced an anti-plagiarism bill to Congress.
Click here to read about the Hollywood plagiarism game of 1935.
Attached is a single page cartoon from 1916 that illustrated quite clearly that the relationship between movie fans and their film star magazines have not changed at all during the past ninety years.
Two articles from two different magazines reported the news that the World Champion Boxer of 1919, Jack Dempsey
(1895 – 1983), would soon try his hand at movie acting. The Vanity Fair item is actually a cartoon by that old sentimentalist, John Held, Jr
.(1889-1958).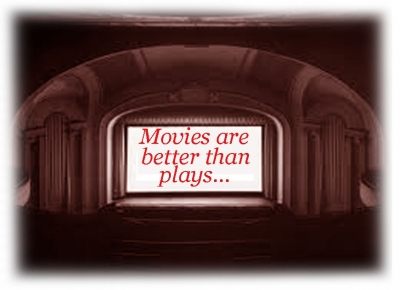 In the future, other athletes would follow in his steps to Hollywood; his fellow boxer Gene Tunney would follow him out there eight years later (The Fighting Marines). Swimmers Buster Crabbe (Buck Rogers) and Johnny Weissmuller (Tarzan) got the fever and came out during the early days of sound movies.
A printable history of United Artists spanning the years 1919 through 1939 which also outlines why the organization was so original:
"[United Artists] introduced a new method into the industry. Heretofore producers and distributors had been the employers, paying salaries and sometimes a share of the profits to the stars. Under the United Artists system, the stars became their own employers. They had to do their own financing, but they received the producer profits that had formerly gone to their employers and each received his share of the profits of the distributing organization."