Recently Added Articles
Click here to be notified when articles
are added to your favorite categories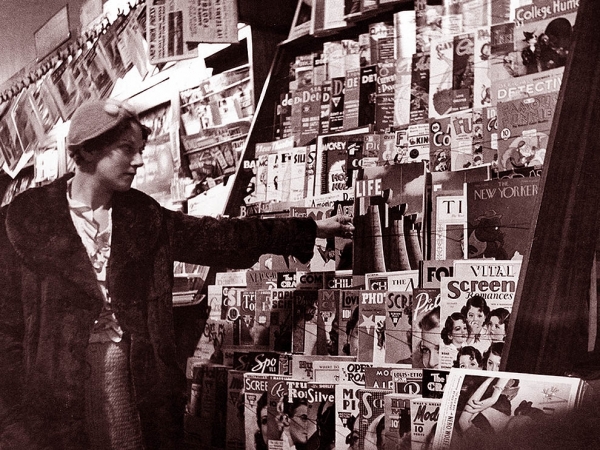 Thanksgiving and Football (The Stars and Stripes, 1918)
Peace was eleven days old when this column first appeared.
Anticipating Thanksgiving, 1918, The Stars & Stripes announced that football games, movies and assorted other forms of entertainment had been arranged by the American Red Cross in order to placate the eager American survivors of the First World War who simply wanted to get on those big boats and sail home.

As an expression of gratitude, numerous French families had volunteered to invite American soldiers and sailors to their homes to celebrate the Thanksgiving holiday.
Towards a Nuclear Strategy (Pathfinder Magazine, 1949)
Here is the "Pathfinder Magazine" article about Air University; established in 1946 by the U.S. Department of War in order to train senior American Air Force officers to serve as strategic thinkers in the realm of national security. In 1949 that meant conceiving of ways to implement a successful strategy in which the Soviet Union would be defeated with nuclear weapons:

"At AU's apex is the Air War College. To its senior officer-students the question of destroying an enemy's will to resist is grimly real. Killing ten million citizens of an enemy nation is no haphazard problem to the Air War College. In the statistics of modern war, a loss of approximately 4% of a nation's population saps its will to resist..."

Six months after this article was first read, the Soviets tested their first Atomic bomb; click here to read about that event.
''God and Alcoholics'' (Liberty Magazine, 1939)
"Somebody said the Lord's Prayer, and the meeting broke up. I walked three blocks to the subway station. Just as I was about to go down the stairs - BANG - It happened! I don't like that word miracle, but that's all I can call it. The lights in the street seemed to flare up. My feet seemed to leave the pavement. A kind of shiver went over me and I burst out crying...I haven't touched a drop since, and I've since set four other fellows on the same road."
Uniform and Equipment Cost Illustrated (Scientific American, 1917)
A black and white magazine illustration from the cover of SCIENTIFIC AMERICAN that appeared six months after President Wilson's declaration of war against Germany in order to let Uncle Sam's taxpayer's understand what it will cost them to put a million and a half men in the field.
The Spirit of Flappers (NY Times, 1922)
Speaking about why she loved the Twenties, Diana Vreeland (1903 – 1989) - observant fashion editor and unique fashion phenomenon, once remarked on a chat show that "there's never been a woman with her clothes chopped off at the knee in history". Indeed - Vreeland would find the attached article about flappers to be spot-on.
German Girls Captured as Machine Gunners (Stars and Stripes, 1919)
This paragraph was lifted from a longer article concerning the battle-savvy Native Americans of World War One and it supports the claims made in 1918 by a number of nameless allied POW's who reported seeing female soldiers in German machine gun crews toward the close of W.W I. There is solid documentation pertaining to the women who served in the Serb, Russian and French armies but very little as to the German ladies who did the same. The article appeared after the Armistice and this was a time when "The Stars and Stripes" editors were most likely to abstain from printing patriotic falsehoods.

If you would like to read another article about women combatants in W.W. II, click here.

Click here to read additional articles about the rolls women played during W.W. I.
The Old Southern View of Integration (Pageant Magazine, 1959)
In this 1959 article Alabama wordsmith Wyatt Blasingame did his level-headed best to explain the sluggish reasoning that made up the opinions of his friends and neighbors as to why racial integration of the nation's schools was a poor idea. He observed that even the proudest Southerner could freely recognize that African-Americans were ill-served by the existing school system and that they were due for some sort of an upgrade - they simply wished it wouldn't happen quite so quickly. The journalist spent a good deal of column space explaining that there existed among the Whites of Dixie a deep and abiding paranoia over interracial marriage.

Their line of thinking seems terribly alien to us, but, be assured, Southern white reasoning has come a long way since 1923...
The Beginning of the End for Jim Crow (Washington World, 1963)
By citing numerous examples of American jurisprudence spanning the early to mid-Fifties, this uncredited journalist illustrates that the era of Jim Crow was being disassembled brick-by-bigoted-brick:

"All across the South, the segregation wall is cracking. The hammer is being wielded by the courts... The executive branch is also moving into the civil rights field."
Karl Marx Reviewed (NY Times, 1887)
To be sure, the book review of Das Kapital by Karl Marx that appeared in The New York Times in 1887 was very different from the review that same paper would give that book today. For this reviewer, Marx was one of the "advocates of chaos", and a "militant political economist":

"If he is anything, Karl Marx is a man in a towering rage. His paragraphs are replete with kicks and cuffs. He wants to slap your face if you are a bourgeois; to smash your skull if you are a capitalist."

Click here to read an article by Leon Trotsky.
''While Brave Men Die'' (American Opinion, 1967)
"One terrible and overwhelming fact must be faced: Our soldiers and our pilots are being maimed and killed fighting a war that they are not being allowed to win. The Johnson Administration is not keeping faith with the men who must fight this war, with the half-million super-patriots, the half-million anti-Communists, who are fighting and dying in action against the forces of the International Communist Conspiracy."
Did You Not See Your Search Article On This Page?
The Subject You Are Seeking Is On This Site,
It Has Simply Been Removed From This Page.
Please Use This Search Engine To Locate It.