2013 Anno Domini was marked as the 100th anniversary of the Hollywood film industry; therefore it is entirely fitting and proper that we should post this thumbnail history that outlines how it all got rolling, as told by the jaded Robert Sherwood, an early film critic who witnessed much of it (although he incorrectly dated the first Hollywood feature film to 1912).
"Hollywood history begins with four men: Jesse Lasky, Cecil B. DeMille, Dustin Farnum and a silent film called The Squaw Man...
(The fourth name in Sherwood's list was that of Samuel Goldwyn - who, in fact, had nothing to do with the production, but whose name in Hollywood had such staying power it seemed difficult to imagine that he didn't.)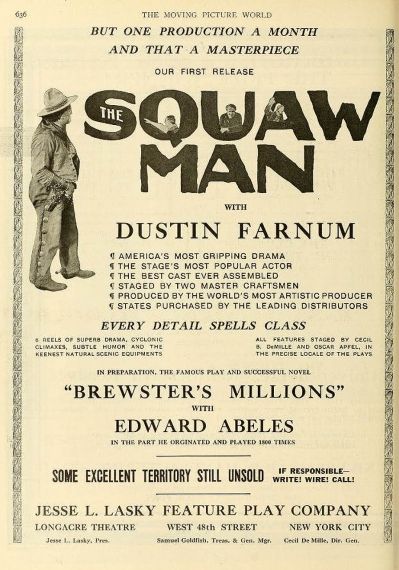 From Amazon: Aspects of American Film History Prior to 1920
by Anthony Slide.