Perhaps the above headline gives too much credit to the flappers alone for changing the sex codes of North America; the truth is that they were one of the necessary elements, in addition to motion pictures, recorded music, automobiles and greater job opportunities for women, that, when mixed together created a new social contract. Be that as it may, it wouldn't have changed without them and the attached article spells it all out as to how the flappers of the 1920s had "stripped the female body of its Victorian wrappings and proudly displayed it in the sunlight".
You might also want read about sex during the Great Depression of the 1930s.
Another history site has an article about the flapper petting parties...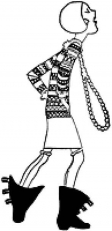 Click here to read more articles about flappers.