In an unbridled attempt to balance the Federal budget, President Roosevelt announced that he would tax "the rich" for 75 percent of their yearly income (the Revenue Act of 1935).
"The New York Times, leading conservative Democratic paper, seems to be oppressed with forebodings that the President's tax plan is going to cause trouble... 'The President cheerfully assumes that the return from these estate taxes would be very large and should be applied to the payment of the national debt and balance the budget... It would not begin to pay the interest on the national debt, to say nothing of reducing the principal, and if it were taken it would leave the budget more unbalanced than ever'."
The columnist was right, the taxes made no difference at all; the President's deficit-spending spree continued nonetheless. When America entered W.W. II, any American who made more than $200,000 a year was taxed 94 percent.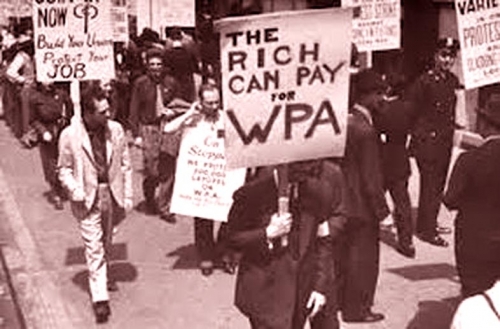 A few months after this column appeared, FDR & Co. decided to target the ten richest states in order to balance the budget, click here to read that article.
Regardless of the degradation of the Great Depression, the United States was still an enormously wealthy nation...
CLICK HERE to read about African-Americans during the Great Depression.
CLICK HERE to read additional primary source articles about the Great Depression...