The W.W. I French Renault tank first appeared on the Western Front in 1918; it had a crew of two, measured 13 feet in length and weighed 6.5 tons. The tank's 35 hp. engine moved it along at a top speed of 6 mph. The factory options were few: one turret was fashioned to accommodate a 37mm gun while the other was made for a machine gun. The American Army placed 227 of these tanks in the field; the American Renaults were differed distinctly from those commanded by the French: the American version sported an octagonal turret (as opposed to a circular one) and steel wheels (the French Army preferred wood).
In 2003 two FT17 Renault tanks were found rusting away in an Afghan junk yard (below) - whereupon the two were quickly whisked away for restoration and exhibition at the Patton Tank Museum in Kentucky; it was believed that the armor was given to the White Russians by the French after Armistice Day in order to keep the Bolsheviks in check (it didn't work). More on this topic can be read HERE.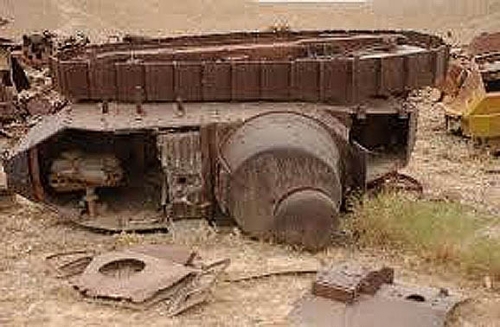 If you wish to read about the only German tank of World War I, click here.
Read about the Patton tank in Korea...