This printable article from THINK MAGAZINE sums up the contributions made by the 87,000 American women of the U.S. Navy during World War II. These women were organized into a body called WAVES (Women Accepted for Volunteer Emergency Service):
"In 500 shore establishments of the United States Fleet, women in navy blue released enough men from non-combatant duty to man all of America's landing crafts in two important operations: the Normandy landings on D-Day and the invasion of Saipan."
"Created July 30, 1942, the Corps completed more than three years of service while the nation was engaged in war. The director was Captain Mildred H. McAfee (1900 - 1994), former president of Wellseley College."
Click here to raed about the woman who ran the WAACs...

Click here to read about the creation of the WAC uniform.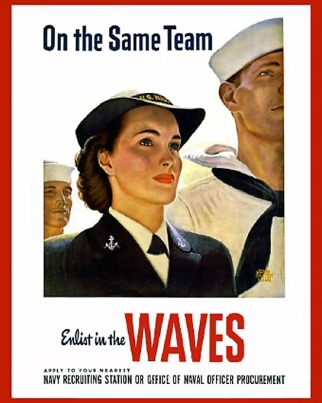 Read about the Women Marines of W.W. II HERE.