"I am proud of this Navy of ours. Every American has a right to be proud of it, to know that it is, up to now, the greatest navy in history. But we cannot afford to be complacent about it. It is still not the navy that our country needs and that our fighting men in the ships deserve. Consider two destroyers, the Reuben James and Kearny. The Reuben James was hurriedly built at the time of the last war. She was fast, but she was not so sturdy as our modern destroyers. Recently she was torpedoed and sunk. The Kearny and is a modern destroyer. She represents years of study by our designers, in stronger metals, in sturdier frame, in greater compartmentation. A torpedo struck her in a vulnerable spot. It was a blast which would have blown an older destroyer in half. It tore heavily into the Kearny and flooded two of her compartments. Men were killed and wounded. But the Kearny kept an even keel and steamed some 400 miles under her own power to make port. Perhaps this is a symbol of the difference between what our Navy was and what it will be in the days to come."
You can read about about James Forrestal here
Click here to read about the rise of naval aviation.
Click here to read about FDR as Under-Secretary of the Navy.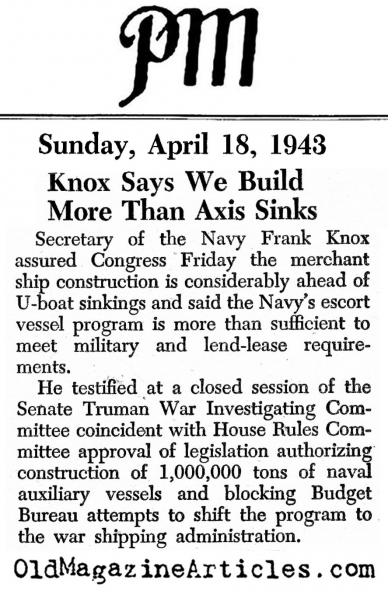 - from Amazon:
Frank Knox, American: A Short Biography
- from Amazon: