On the right is an article by American journalist Lowell Thomas (1892 - 1981) regarding all that he witnessed while reporting on General Edmund Allenby's campaign against Johnny Turk in the Sinai and Palestine Theater during the First World War. This reminiscence was written many years after the war in an effort to make up for the fact that "after eighteen years, no clear-cut account of Allenby's campaign has been set down":
"You will get a real idea of what may well be impending from the story Kenneth Brown Collings and I have to tell you - the story of how the largest cavalry army in all history succeeded at last where Richard of the Lion Heart had failed."
"The Turks had fled during the night; the mayor of was coming out to surrender the city to Allenby's army. The first British soldiers he saw were these two Tommies. The mayor didn't know anything about army rank; any British uniform was the symbol of Britain's might as far as he was concerned. He made an eloquent speech and surrendered the Holy City - to a cockney cook and a kitchen mechanic."
"That was too deep for the cook." 'We don't want the surrender of the 'Olly City, sir,' he said. 'All we wants is heggs for our hofficer.'"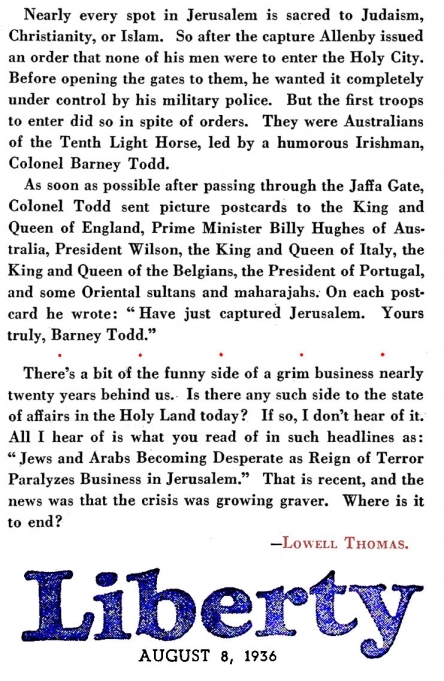 Click here to hear Lowell Thomas give an audio account of his W.W. I experiences in the Middle East.
More about this victory can be read here
Click here to read about Lawrence of Arabia...