The attached article was written by the war correspondent Fairfax Downey (1894 - 1990) for a magazine that catered to American veterans of W.W. I, and it seemed that he simply could not contain his enthusiasm for the U.S. infantry's new rifle:
"What a gun it is! Its nine pound weight swings easily through the manual of arms. The eight-round clip (three more shots than the we used to have with the '03 Springfield) slips in easily and the breech clicks closed. The old range scale slide has vanished; range and windage adjustments are made simply by turning two knobs...The new semi-automatic means, among other things, that the fire power of troops armed with it has increased at least two and a half times over the old Springfield. For the low flying aviator, bound for a grand strafe, it is a keep-off-the grass sign with heavy penalties attached."
For further magazine reading about John Garand and his rifle, click here.
In 1939, a German spy almost succeeded in delivering the blueprints of the Garand rifle into the blood-soaked hands of his Nazi overlords: read about it here.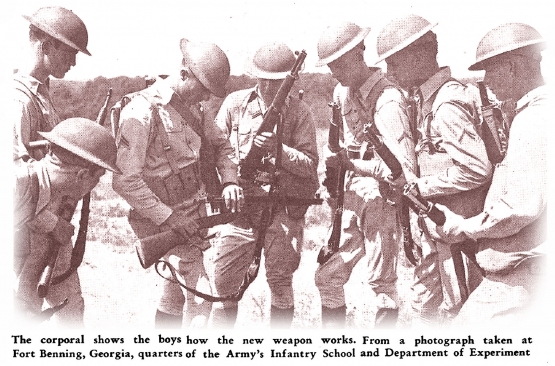 - two from Amazon: