During the Second World War in the United States it would have been an act of treason for a journalist to write a slanderous profile about any of the leaders of the allied nations who were beset against the Axis powers. Not only would the writer face grave charges, but so would his editor and publisher. However, this does not mean that the editors of Coronet Magazine had to go so far over the top as to publish this article by the Soviet cheerleader Walter Duranty (1884 – 1957) of The New York Times.
To be sure, this Duranty profile of the Soviet tyrant Stalin is an interesting article, particularly on the historic details of the earliest days of the Bolshevik Revolution; but do keep in mind that you are reading the words of a man who was called "the greatest liar I have met in journalism" by the British reporter Malcolm Muggeridge, who was shocked to read that Duranty wrote not a word about the starvation in the Ukraine when he served as the Times' Bureau Chief in Moscow (a subject which was breezed over again in this piece).
Duranty glossed over any mention of the Stalin-Hitler Non-Aggression Pact in the last paragraph:
"The Man of Steel, who tries always to think as Lenin would, had Hitler's number long before most of the rest of the world did. He may write the epitaph of Der Fuehrer and his German Hordes."
The New York Times received the Pulitzer Prize for the Duranty articles about the Soviet Union in the 1920s and '30s. Even though the paper admits that their journalist did not report the truth, they have not surrendered the award. In 1933, Stalin spoke out on behalf of Duranty: "He [attempted] to tell the truth about our country".
Read about the "Soviet Congress"
Magazine and newspaper articles about the Cold War may be read on this page.
Read a magazine piece that compares the authoritarian addresses of both Hitler and Stalin - maybe you will see how they differed - we couldn't.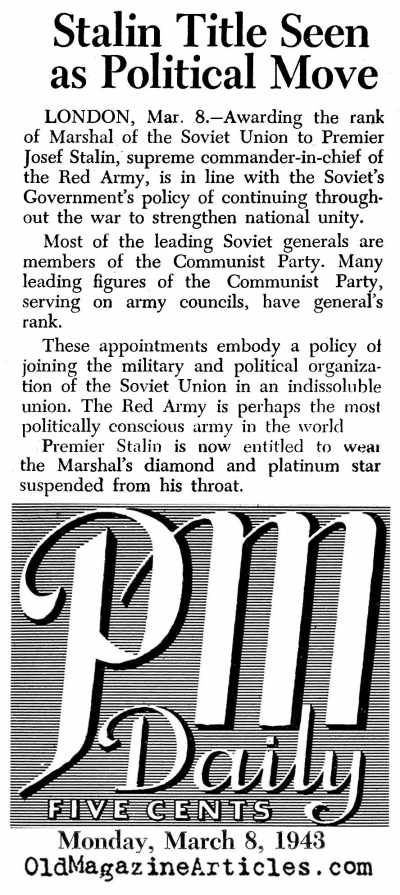 - two books from Amazon:
Stalin's Apologist: Walter Duranty: The New York Times's Man in Moscow