When this Click Magazine article appeared on the newsstands at the close of 1942, the American people were fully committed to a war on two fronts that quite often was not generating the kinds of headlines they would have preferred reading. As a result, Americans turned to the church for spiritual and emotional support:
"Two years ago most churches were considered fortunate if forty-five people attended the morning service; today devout worshipers fill the pews morning and night."
During the war years hundreds and hundreds of forts, camps and training facilities were built all over the United States - the great majority of them had churches - as a result, the American military went on record as being the largest builder of churches in history.
Oddly, we have another article printed ten years earlier that states the opposte view; this article maintains that the bad old days of the Great Depression packed the Americans into thousands of temples and churches in an attempt to find sympathy and compassion.
Click here to read about the heavy influence religion had in the Rebel states during the American Civil War.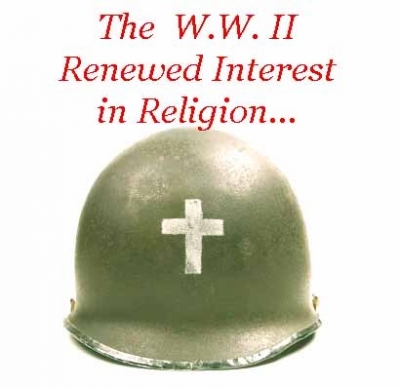 Click here to learn more about the American W.W. II home front...