To the right you will see an interesting column that succinctly sums up how Stalin's spies were able to compromise the Manhattan Project; who organized the spies, the intelligence that was gleaned, how they were caught and what their fate within the legal system would be.
The evidence that conclusively proved the guilt of David Greenglass, his sister and brother-in-law Julius and Ethel (pictured above) Rosenberg, Harry Gold and Morton Sobell was provided for all to see years later with the decoding of the Venona cables. In 1990, after the collapse of the Soviet Union, those who were still in doubt read of their guilt in the recently opened Soviet Archives.
Click here to read some of the Greenglass testimony from the Rosenberg spy trial...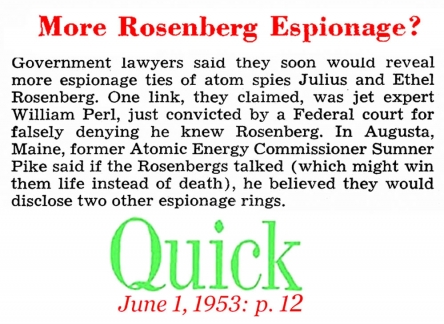 You can read about Alger Hiss HERE...
From Amazon:

Click here to read about the blackmail and extortion tactics that American Communists used in Hollywood during the Great Depression...