Attached is a segment of the letter many historians tend to agree was that one document that lead to the American involvement in the Vietnam War.
Written in the Spring of 1954, when the French military was in the throes of losing the Battle of Điện Biên Phủ, President Eisenhower was writing to the former British Prime Minister to express his concerns regarding the place of Vietnam within the strategic structure of the Pacific and openly wondered what a Communist Vietnam would mean to the balance of power in that region.
"But regardless of the outcome of this particular battle, I fear that the French cannot alone see the thing through, this despite the very substantial assistance that in money and matérial that we are giving them...[if the French lose this war] and Indochina passes into the hands of the Communists, the ultimate effect on our and your global strategic position with the consequent shift in the power ratios throughout Asia and the Pacific could be disastrous and I know unacceptable to you and me."
Eisenhower believed that the events that were unfolding in 1950s Vietnam were analogous to the global rise of Fascismthroughout the Twenties and Thirties:
"If I may refer again to history; we failed to halt Hirohito, Mussolini and Hitler by not acting in unity and in time. That marked the beginning of many years of stark tragedy and desperate peril. May it not be that our nations have learned something from that lesson?..."
In 1954 the French gave up on Vietnam and the U.S. accepted the challenge - click here to read about it...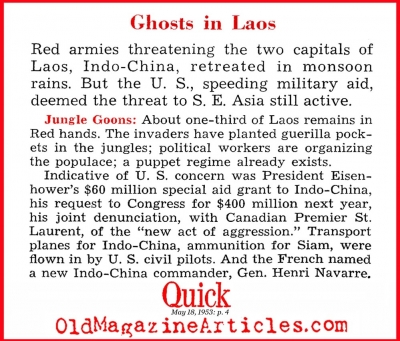 Read About Eisenhower as a W.W. II General
Click here to read an article about American public opinion during the early Cold War years
More about Winston Churchill can be read here.