Pulled from the "Hot From Hollywood" page in Stage Magazine came this report on the curious events taking place at the MGM studio:
The cast was extraordinary, from the stars Frank Morgan, Judy Garland, Ray Bolger, Bert Lahr, Jack Haley to Toto, the Carin Terrier. But of them all, the most utterly enchanting were the midgets, two hundred and twenty-five of them, with their doll faces, their plastered hair that looked as though it had been painted on their heads, the little felt flowers that grew out of their shoes, the bells that jingled from their sleeves. They, of course, were in costume for the good little Munchkins."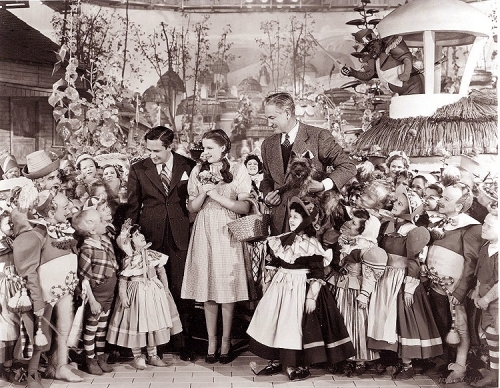 Another article about the Wizard of Oz can be read here...
Gone With The Wind was another amazing Hollywood movie from the same year click here to read about it...
Another great Hollywood movie from 1939 was The Grapes of Wrath - click here to read about it...