"All we know is what we saw and heard as we rode the 2,200 miles of Mexican border, touching in at the fifty-six Border Patrol stations from which 1,600 apparently tireless men cruise the ugly, eroded bank of the Rio Grande and the desert country to the west.Their duties sound simple - to prevent smuggling of men and merchandise into the United States. It's not as soft as it sounds. They watch the river from towers, they ride on horses and in cars that roar along at eighty and ninety miles an hour, they trudge up and down the trackless wastes where cars are impotent and horses can't be maintained. More than ninety percent of the aliens they catch these days are Mexicans. Europeans are either isolated in Europe or watched too closely in Mexico to make their break across the border - unless of course, some are being flown north [across the border] - and the Border Patrol can only gaze at that."
Since January, 2022, the Border Patrol has been reduced to a concierge service.
Click here to read a 1937 article about the illeagal immigrants who came through Ellis Island.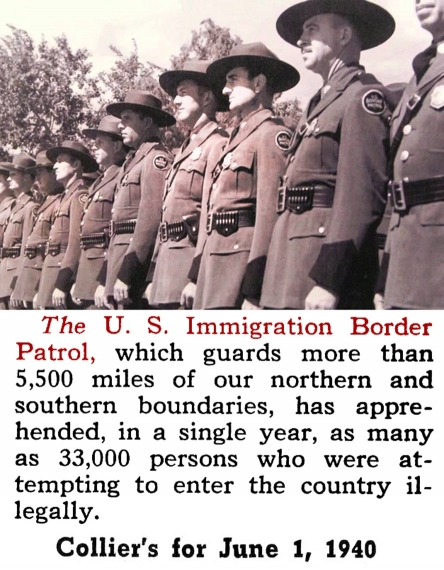 - from Amazon: