Spotted in Argentina during the summer of 1951 was Mussolini's daughter, Edda Ciano (1910 – 1995), Otto Skorzeny (1908 – 1975) and Croatian fascist Ante Pavelić (1889 – 1959). The murderous Pavelić was in the employ of the Argentine dictator, Juan Peron; the other two resided in Europe (Countess Ciano had recently served a two year stint in the Italian prison system and Skorzeny, as an ODESSA flunky, was no stranger to South America).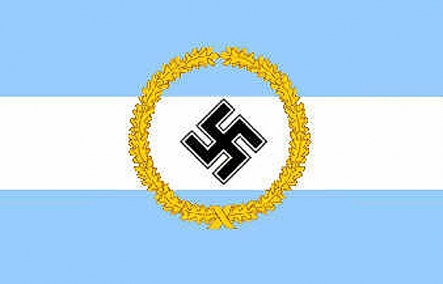 The flag above is said to have been that of the Nazi Party in Argentina. This organization was believed to have had thousands of members long after the war ended.
A related article can be read here...
Read about the earliest sightings of Hitler: 1945-1955
Click here to read about the Argentine dictator Juan Peron and his connections with Nazi Germany.
Click here to read another article about the post-war whereabouts of another Nazi.
Click here to read a related article from NEWSWEEK concerning the post-war presence of Nazis in Argentina.