"We have from 5,000,000 to 10,000,000 people who are anxious to work but who have no jobs."
"At the same time we have billions upon billions of capital that is equally anxious to be profitably employed but which is now as useless as so much waste paper."
"There is now piled up in banks some $46,000,000,000. As opposed to $39,000,000,000 at the low point of 1933, and the idle capital is on the increase. World trade has virtually broken down."
Since the New Dealers found it impossible to create the sort of vibrant economy that made entrepreneurs want to invest, they decided instead to simply take their money; click here to read this article that came out a year later...
As one editorial makes clear, FDR had a tough time freeing up private capital for investments, click here to read it.
CLICK HERE to read additional primary source articles about the Great Depression...
Click here to read about American high society during the Depression years.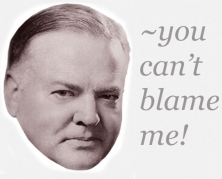 President Hoover held that the Great Depression was a result of the First World War and the general instability of European markets - his reasoning is supported in this 2017 book: A Rabble of Dead Money: The Great Crash and the Global Depression: 1929–1939