Attached are two short paragraphs from a popular fashion trade magazine pointing out that the white cotton knit crew-neck garment we call the T-shirt came into this world with the name "quarter sleeve" and had it's origin in the U.S. Navy, where it earned it's popularity and soon spread to other branches of the U.S. military during the mid-to-late 1930s.
When the war came, the garment was in the quartermaster stores of each branch in the U.S. military and ready to be issued to as many as twelve million men over the course of the next four years. As this article makes plain, the T-shirt was the only element of the military uniform that these men wanted to keep when the war ended. The actor Marlon Brando, who wore one in the 1947 stage production of "A Streetcar Named Desire" (costumes by Lucinda Ballard: 1906 – 1993), is credited for having made the garment fashionable.
The rest is history.
More about W.W. II fashions can be read here.
There was another fashion innovations of W.W. II, click here to read about it...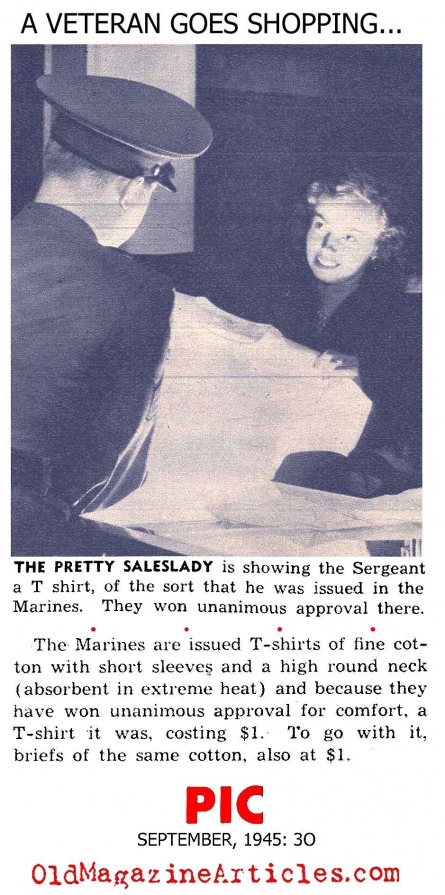 (It should be remembered that Sears began selling T-shirts as early as 1938 for twenty-four cents.
The garment was then known as the sailor shirt or the gob)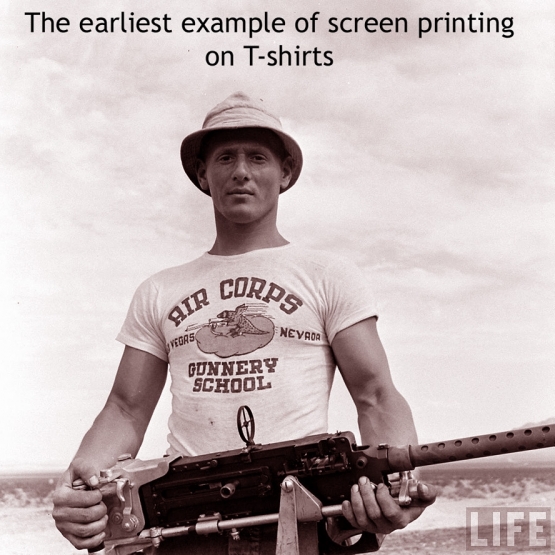 The article below indicates that 1954 was the year when screen printing on T-shirts kicked into high gear and the new normal in street wear was born.


-a history book from Amazon: