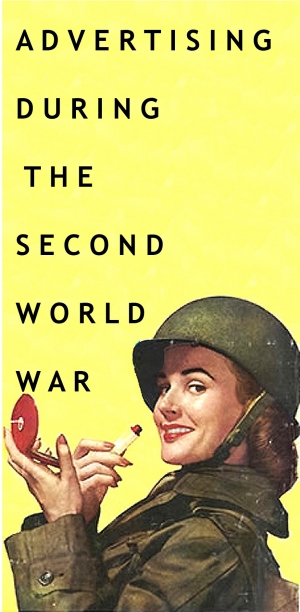 Who was it who deprived men of their suit vests and trouser cuffs? Who banned silk stockings? Who outlawed the "flow" in "flowing skirts"? Why, it was the War Production Board of course - click the title link if you want a name and a face...
This article tells of the origin and fast times of the zoot suit. Although the garment was popularized by Mexican-Americans in Los Angeles, it had it's origins in Harlem, New York, where it was known as the "root suit".
Here is a small article, illustrated with five fashion images, about the types of intimate apparel and pajamas that were available to the home-sewing girls on the W.W. II American home front.
Click here to learn about the under garments that had to be worn to pull-off the "New Look"...
In their book about American soldiers in the war-torn Britain of W.W. II, Overpaid, Over-Sexed and Over Here
(1991), authors James Goodson and Norman Franks recall how thoroughly impressed Americans were with the standard issue British Army uniform. The Supreme Allied Commander, U.S. General Dwight Eisenhower, was no exception - he promptly ordered his tailor to suit him in a similar get-up. Other American generals followed in his path as did the cocky young pilots of the Army Air Corps - shortly there after the look soon spread to other branches of the Army. This 1944 article discusses the broad appeal of this jacket and that civilian fashion designers had begun manufacturing the "Ike Jacket" for the Home Front.
New York fashion journalist Gertrude Bailey wasted no time in applying for her overseas press pass upon hearing the news that the Germans had been driven from the banks of the Seine in August of '44. Although the fashion column she filed largely anticipated the glorious return of Paris chic, mention was also made of what Paris fashion was like during the German occupation - sitting ringside at one of the runways, Bailey found that
"One found significance in the appearance of green as a color, and noted that the reason it had been absent for four years was because it was the color of the German uniform, which no Frenchwoman would wear until France was free."
This was an unusual article for Yank to run with but it is a wonderful read nonetheless. The column concerns fashion as a reliable barometer of societal direction and starts out with a quote from Basil Liddell-Hart (1895 – 1970) on this issue. The writer then goes to the author and all-around fashion philosopher, Elizabeth Hawes (1903 - 1971) who proceeded to speak thoughtfully on the topic of fashion in wartime. Hawes remarked that the clothing of the leaders can be read as an indicator of forthcoming events.
CLICK HERE to read about the beautiful "Blonde Battalions" who spied for the Nazis...