This illustrated article appeared in "Yank Magazine" during March of 1945 and explained fully what fabric rationing was and how the American home front fashion consumer was affected:
"The absence of cuffs and vests aside, pre-war styles in men's clothing are still obtainable. A man can get plaids, stripes, herringbones and all sorts of weaves in brown, blue, gray and all the various pastel shades. ...Women generally have had to make great changes in their dressing habits. In the first place the shortage of rubber has raised hell with the girdle, or foundation garment."
Read a 1940s fashion article about fabric restrictions and the War Production Board.
Click here to read about the woman who dictated many of the fabric restriction rules on the American home front.
Click here to learn more about the American W.W. II home front...
Below are the War Production guidelines for Apparel Order L-85: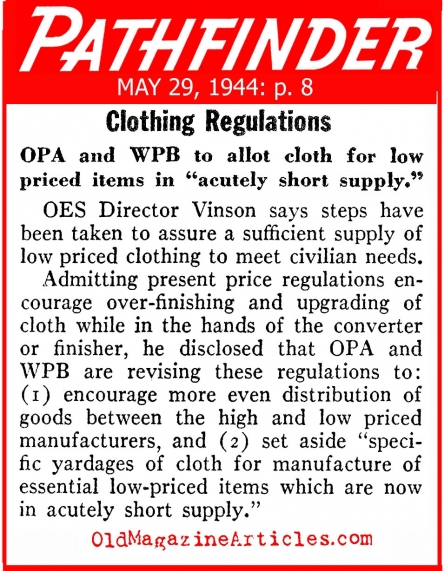 Click here to read more about fashion on the W.W. II home front...
Click here to read about the effects that the Great Depression had on the clothes we wore...