"...Some things are out altogether for sky service. Omelets wouldn't keep their shape during the trip from kitchen to plane, to passenger's plate. Eggs are never set on toast, for the toast would get so soggy in the time between preparation and consumption. Brussels sprouts would fall apart after four hours even if, like other air-destined vegetables, they were only medium-done…"
"Despite all limitations, however, airline passengers do very nicely on dinners consisting of consomme, radishes, celery, olives, to start with; an entree of lamb chops and corn O'Brien with mixed greens salad, Russian dressing with rolls on the side. Chocolate sundae, coffee and mints conclude the spread. Lunches might include strained vegetable soup, radishes, celery, olives, followed by chicken á la king served in patty shell, lettuce and green pepper salad, Thousand Island dressing, rolls. Then for dessert, a rhubarb tart and coffee."
This site has more food and wine articles.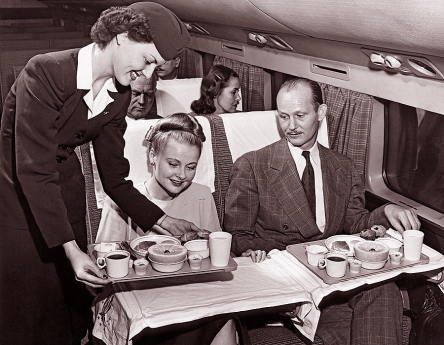 Click here to read about the earliest airline stewardesses...
- from Amazon: