As the one-hundredth anniversary of the War Between the States grew ever nearer, a Pulitzer Prize winning Civil War Historian, Bruce Catton, wrote the attached article concerning the overwhelming popularity that the nation was finding in their study of that remarkable contest: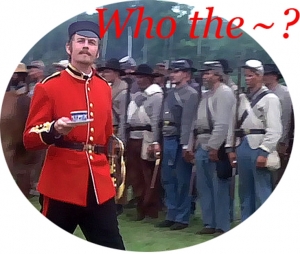 "The requirements for becoming a Civil War Buff are very simple. All you need is a desire to join. If you are interested in the Civil War, you're in... You may get to the point where you want to join a Civil War Round Table. [Overtime] commonplace words like Appomattox and Antietam and Perryville take on a new meaning for you; a good deal of the monotony and routine of modern life somehow evaporates, as you escape into a period of profound and haunting significance."
"All in all, it's quite an experience.
Welcome to the Army!"
Responding to the old tale that General Lee offered his sword in surrender at Appomattox, and that the magnanimous General Grant, flush with victory, kindly refused this gesture of humiliation - this anonymous contributor to "Confederate Veteran Magazine" penned an article that exposes the old saw to be incorrect:
"And General Grant says specifically in his memoir (Volume II, Chapter 25, pages 344-346): 'No conversation, not one word, passed between General Lee and myself either about private property, side arms, or kindred subjects. The much talked of surrendering of General Lee's sword and my handing it back, this and much more that has been said about it, is pure romance.'"
A few paragraphs on the difficulties faced by the medical establishment of the Confederacy as a result of the Union naval blockade of Southern ports. We were surprised to learn that the scarcity of quinine and other medicinal aids forced the doctors of the South to embrace herbalism.
Click here to read about the heavy influence religion had in the Rebel states during the American Civil War.
Both Northern and Southern armies were composed predominantly of very young men. Almost all the generals were highly bewhiskered, but the enlisted men were almost all too young to shave.
Both sides carried a muzzle-loading rifle, cumbersome by modern standards, but nevertheless a highly effective weapon. It would kill at more than half a mile, and was deadly when used by veterans...
This collection of Civil War letters, written by one of the younger members of an Illinois regiment, was printed in a men's magazine at a time when the U.S. was gearing-up for it's first military adventure in Europe. The editors wished only to impart to their younger readers what a soldier's life is like:
"I will try to give you some of the particulars of soldier life so far as I have tried it...We don't have more than half enough to eat...Health is good, with the exception of dysentery."
Appearing in the pages of Confederate Veteran Magazine some forty-three years after the bloody end of the American Civil War was this reminiscence by a Confederate veteran recalling the important roll that corn played during the war and throughout American history:
"I am an old Southern planter, past eighty-five years of age, in perfect condition as to mind and health, have lived on cornbread all my life, and feel that I can speak intelligently on the much-mooted cornbread question."
"During the war I commanded the 1st Arkansas Regiment, consisting of twelve hundred men, and during the four years we never saw a piece of bread that contained a grain of wheat flower. We lived entirely on plain corn bread, and my men were strong and kept the best of health..."