The only big fashion innovation popular enough to share the 1947 headlines with Dior's "New Look" involved the evolution in women's swimwear; most notably the Bikini. The attached single page article pertains to all the new fabrics being deployed in ladies beachwear and all their assorted coverups:
"Sand-and-sun fashions for this summer are perter and briefer than ever before. Although the typical bathing suit covers just about 2.5 square feet of a swimmer's anatomy, a costume-look for the beach is achieved with a companion cape, skirt of short coat... Favored fabrics are those made to ride the waves. Knitted wool shows up in both classic and unusual designs. Colors are softer and muted. Black and blue appear most often, with cider, gray and smudge the 'high-style' shades."
Click here to learn about women's fashions from the Summer of 1934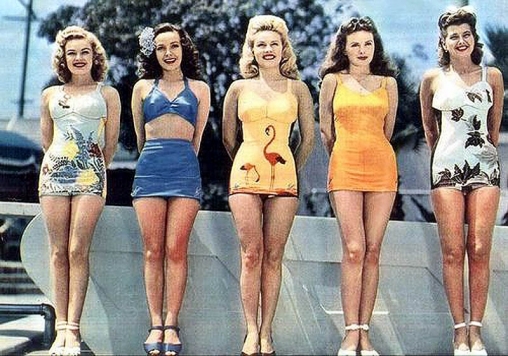 Additional articles about 1940's fashion can be by clicking HERE...
Click here to read articles about fashion during W.W. II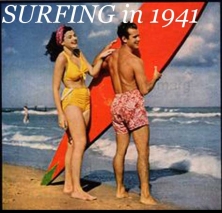 Click here to read about the fashion legacy of W.W. I...
To read about one of the fashion legacies of W.W. II, click here...
Click here to read about the origins of the T-shirt.