Dusty, Peggy and Jean were just three of the co-eds that made up the six percent of American women who attended college in 1941 - and that's all that was required of them in order for the trio to sample fashion's latest wares and sound-off in the attached Fall fashion review. Go figure.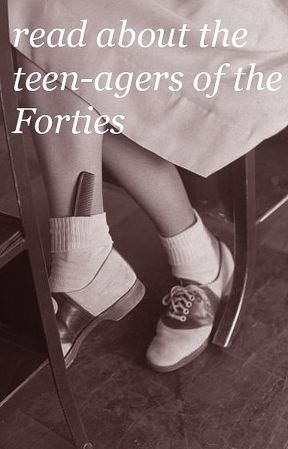 With the exception of the broad-brimmed sun hat pictured in the attached fashion editorial, you will find that women's hats were growing smaller throughout the course of the Forties and they tended to sit farther back on the cranium, requiring hairdos that would accommodate and complement these creations.
The Sally Victor hat composed of red cherries took its inspiration directly from the bizarre, comical costumes worn by the actress Carmen Miranda. This fruit theme was typical of many post-war milliners. The six other hats in the piece were by two American designers: Lilly Dache and John-Frederics.
Click here to see what men's summer hats were like during this period.
Having no foresight as to the fashion juggernaut that would commence in one year with the appearance of Christian Dior's New Look, the journalist puts all her credibility in one basket by declaring that all eyes are on the French fashion designer Madame Marcelle Dormoy. Much ink is spilled concerning the bleakness that clouded fashionable Paris during the occupation and the difficulty all fashion houses experienced in 1946 securing suitable fabric for their creations (at black-market prices).
The writer recovered some of her street-cred anticipating the meteoric career return of the well-loved French film actress Edwige Feuillère (1907 – 1998), who is personified herein as the epitome of French Glamour returned.
Click here to read a 1946 article about Le Corbusier.
On the matter of the American fashion designer Adele Simpson (1904 - 1995), it must be remembered that she was a prominent player in American fashion for many decades; a woman who had been awarded both a Coty Award (1949) as well as a Neiman Marcus Award (1946). Her creations were highly sought after by the crowned heads of both Europe and Hollywood.
Click here to read about wartime fabric rationing in the 1940s.
At the time this article appeared on the pages of COLLIER'S MAGAZINE, the Fashion Group was already over twenty years old and in need of more office space.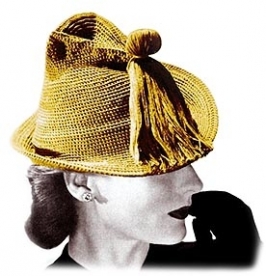 Established in 1928 by the crowned-heads of the American fashion industry, it was decided that the dominate fashionistas 'needed a forum, a stage, or a force to express and enhance a widening awareness of the American fashion business and of women's roles in that business." This article points out that there were present in that room on that historic day a smattering of women who toiled in the vineyards as fashion journalists and collectively it was understood that the two groups very much relied upon each other. The Fashion Group was established in order to:
"judge trends by watching sales figures, which indicate which fashions are on the wane and which are gaining favor. They travel around to see what we do, and therefore, what we need."
Today, the Fashion Group has offices in every major American city as well as branches in the fashion capitols of Europe, South America and Asia.
Clipped from the pages of a 1948 issue of COLLIER'S MAGAZINE were these four color pictures of skiers loafing about the slopes in a place that had just recently been discovered for such purposes; it was called Aspen, in Colorado.
You will no doubt notice that there is no real difference between the skiing togs worn by either gender; both wore only wool, jaunty ski sweaters and pegged trousers.
Click here if you would like to read the entire article about Aspen in 1948; there are additional color photographs.