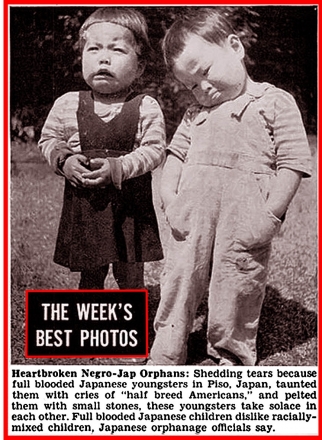 A member of the 34th Infantry Division wrote to the editors of YANK to let all members of the Army know how much respect he had for the Nisei soldiers in the 442nd Regimental Combat Team.
This photo essay from CLICK MAGAZINE consists of six black and white images illustrating the Nisei officers and GIs toiling under the merciless sun at Camp Shelby, Mississippi prior to being shipped out for combat duty in Italy. The accompanying paragraph sums up quite nicely their devotion to the United States, declaring that for these Japanese-Americans, "democracy outweighs blood ties", yet says not a word about the internment camps.
CLICK HERE to read about the beautiful "Blonde Battalions" who spied for the Nazis...
"You're damn right those Nisei boys have a place in the American heart, now and forever. And I say soldiers ought to form a pickaxe club to protect the Japanese-Americans who fought the war with us. Any time we see a barfly commando picking on those kids or discriminating against them, we ought to bang them over the head with a pickaxe. I'm willing to be a charter member".
General Joseph W. Stillwell
Read the letters of American soldiers and Marines who recognized
the injustice that was done to the Japanese-Americans...
Who knows, perhaps the author of Bad Day at Black Rock
, Howard Breslin, had read this striking bit of fiction from YANK MAGAZINE and felt such a deep sense of social injustice that it inspired him to write his novel about anti-Isei mob violence. Either way, this very moving, two column piece is a fictional account about the pathetic homecoming experienced by a member of the Nesei packed 442nd Regimental Combat Team.
It was written by YANK MAGAZINE's Len Zinberg (1911-1968; a.k.a. Ed Lacy, a.k.a. Steve April); by that time, Zinberg was already an experienced writer with impressive credits and the magazine was lucky to have him. His writings at YANK helped to open the door at THE NEW YORKER, where much of his work was to be seen following the end of hostilities.
When we think of the selfless acts performed by the Nisei during World War II we are often inclined to remember only the 442 Regimental Combat Team - that is why it is important to read this essay, that recalled many of the Japanese-Americans who served so selflessly in the O.S.S. behind enemy lines in the Burma-China theater as well as those who toiled on behalf of the Southeast Asia Translation and Interrogation Center.
The attached article was written by a twenty-five year-old Japanese-American Army private named Yori Wada (1917 - 1997). Wada had joined the army some months prior to the Pearl Harbor attack and with all the good fellowship and optimism typical of youth, he explained with some enthusiasm, about how much he enjoyed army life and all the friends he had made within his unit. While the article makes no reference to the unfortunate lot of his family back home, Wada wrote that his future in the army as of April, 1942 was unclear; all he wanted was a fair shot to defend his country, and he didn't think that he'd get it.