Hollywood History - Charlie Chaplin Articles
Charlie Chaplin Articles Film Clips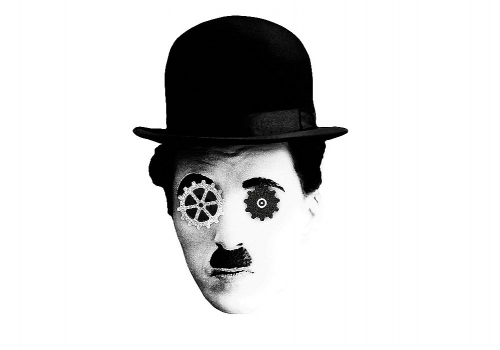 In this article the Soviet dictator Vladimir Lenin states that he always wanted to meet Charlie Chaplin...

With the popularity of Charlie Chaplin (1889 - 1977) came a large number of artificial, bootlegged Charlie Chaplin movies and a host of fraudulent 'Charlies'. All the fake Chaplins were clad the same and all answered to the same name yet all had different biographies and were not terribly funny in the slightest degree. Chaplin No. 1 did not care for this one bit and did not hold back while talking to this correspondent from "Motion Picture Magazine".
"The world, with the exception of those bright eyed youngsters under the age of five, has waited pretty breathlessly for the reappearance of a forlorn little figure in a derby, baggy trousers, and disreputable shoes. The fact that his reappearance was to be under the sinister title, Modern Times alarmed not a few of us. This hapless creature, whose name by the way, is Charlie Chaplin, had come to mean an unchangeable element to us...Disguised in current mechanistic ingenuity, veiled in lukewarm disapproval of the plight of the working man, and tinted a slight shade of Red, it remain, delightfully and irrevocably, Chaplin.
This short column appeared in 1916 answering the question for so many concerning the salary of Charlie Chaplin who served as his own inspiration for his famous character, "the Little Tramp".
The Time Magazine review of Charlie Chaplin's film, A Woman of Paris, fell in line with many other reviews of the work: they all believed that Chaplin, as director, had moved the ball forward insofar as the development of film - and Time hoped that they had seen the end of Chaplin the clown. However, the 82 minute film was a commercial flop, primarily because he wasn't in it (they chose not to publicize that he played an extra's roll for one quick scene).
The first film Chaplin had directed was The Kid (1922) - and you can read about that here...
"This, the much-discussed final speech in The Great Dictator, is more than a climax and conclusion to Chaplin's newest film, it is a statement of Chaplin's belief in humanity, a belief in which his creative powers and artistic development are deeply rooted."
"Hope...I'm sorry, but I don't want to be an emperor. That's not my business. I don't want to rule or conquer anyone. I should like to help everyone, if possible -Jew, Gentile -black man -white."
Within the toasty-warm confines of the attached PDF lie the text of a speech that Chaplin delivered over the war-torn airwaves in 1942. Wishing only to encourage the citizenry of London and Washington, D.C. to be of stout heart in their battle against the Fascist powers, Chaplin's address was titled, "Give Us More Bombs Over Berlin".

MORE ARTICLES >>> PAGE: *

1

* 2 * 3 * 4 * > NEXT