In one of his other verses poet Ogden Nash (1902 – 1971) wrote that "women are not female men". In the attached poem he expanded on that thought to a greater degree as he observed women and their approach to fashion.
"After years of material shortage, the accent is definitely on the feminine, with all of its flounces... A look at all the collections shows that black is the outstanding color for afternoon and dinner. Drapings, wrappings and swathings that girdle the hips are the outstanding line. The favored fabrics are velvet , velveteen, corduroy (used horizontally, as are other striped materials) monotone tweeds, Kashas (a twill-weave fabric of wool mixed with Cashmere), and some Scotch plaids."
The only big fashion innovation popular enough to share the 1947 headlines with Dior's "New Look" involved the evolution in women's swimwear; most notably the Bikini. The attached single page article pertains to all the new fabrics being deployed in ladies beachwear and all their assorted coverups:
"Sand-and-sun fashions for this summer are perter and briefer than ever before. Although the typical bathing suit covers just about 2.5 square feet of a swimmer's anatomy, a costume-look for the beach is achieved with a companion cape, skirt of short coat... Favored fabrics are those made to ride the waves. Knitted wool shows up in both classic and unusual designs. Colors are softer and muted. Black and blue appear most often, with cider, gray and smudge the 'high-style' shades."
•Click here to learn about women's fashions from the Summer of 1934•
One Autumn evening in 1949, New York fashion model Anna-Lee Daniels and her gay boyfriend, Henry, took it upon themselves to demonstrate just how chic ladies' undergarments were becoming. Recognizing that the latest slips were so minimal in their design - appearing much like the dresses flappers were often seen wearing back in the day It was soon decided that the two should step out for a night on the town - with young Anna-Lee sporting the slip - just to see if anyone caught on.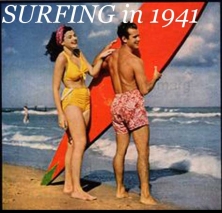 "The shingle cut, the feather trim, the French Scissors cut or the cherub cut - no matter which you choose - a short hairstyle flatters your face.... When the American college girl first began to clip her long tresses, the general reaction was one of general horror. Now that the surprise has worn off, the various advantages of short hair become apparent: trim locks are cool, easy to take care of, smart looking and stylish."
Lilly Daché (1898 – 1989) was the most famous milliner of her era; before retiring in the late Sixties (when hats were finally shown the door) she had accomplished much in the realm of fashion - designing dresses, lingerie, gloves, bags, jewelry and hostess gowns. While in league with the Hollywood costume designer Travis Banton, her lids adorned many of the craniums of the most glamorous women ever to grace a movie screen.