The following is an excerpt from the review of the New York production of the 1921 play, "A Bill of Divorcement" by Clemence Dane (born Winifred Ashton 1888 - 1965). With much enthusiasm, the reviewer wrote:
"We know of no better expression of the creed of the new generation than that which Clemence Dane has drawn up...".
What followed was a very short soliloquy which beautifully summed up not only the philosophy of the modern woman, but the philosophy of much the Twentieth Century.
A single page history essay concerning the most popular hairstyle of the 1920s.
This funny announcement from the yellowing pages of FLAPPER MAGAZINE made it clear to one and all that all flappers were eligible to enter their "Flapper Beauty Contest":
"You don't have to be beautiful to be a flapper, and if you're not a flapper you wouldn't be considered beautiful. So there!"
(But we're sure it helped)
This article is made up of the musings of various editors, university presidents and social reformers discussing the cultural relevance of the Flapper and the cultural changes she has brought forth.
"Scorned for too long by churchmen as an ambulatory example of folly, the flapper at length finds herself defended by the Church. She is not, in this new view, the brainless, overdressed Jezebel that she has been pictured to be. 'She is a symbol of the times. As she sweeps down the street, she is like nothing so much as a fine, young spirited puppy-dog, eager for the fray'."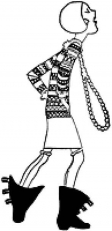 Unlike some members of clergy, the wise sages of Hollywood were clearly numbered among those who held favorable views about flappers, but they didn't always produce films that were sympathetic to their causes; for example, the editors of Flapper magazine hated this movie.
A brief notice from 1917 reported on the arrest of three women for smoking in the Times Square subway station in New York City.
When the socially astute, forward-thinking judge recognized that no real crime had been committed they were released, but in the high fashion world feminine tobacco abuse, these women are often said to be the Rosa Parks of nicotine:
Mary Driscoll, Edna Stanley and Elsie Peterson
let their names live ever more!