An article by military historian and biographer Fairfax Downey (1894 - 1990) concerning the unique manner of mechanized warfare that the Germans had introduced to the world during the opening weeks of the Second World War:
"Thunder rumbles, lightening flashes and strikes. Incredibly swiftly it is over. So, compared to the campaigns of the First World War, was the German Blitzkrieg, rumbling, flashing and striking down Poland, Norway, Holland, Belgium, and France. How did it work? What made it click?"
On assignment for the Hearst papers, H.R. Knickerbocker (1898 – 1949) witnessed the total collapse of the French Army. He made his observations and conclusions available to American readers in his 1941 book Is Tomorrow Hitler's?, which hit the bookshops shortly after Pearl Harbor.
"If [The French] had ignored their low birth rate, been willing to spend lives, had retained the old offensive spirit traditional in the French Army, had known that they had to win or perish, had a Churchill to inspire and lead them, and had no traitors in their ranks, their comparative lack of weapons would not have mattered; they would still be fighting the Germans in France."
Click here to read the observations of U.S. Army Lieutenant Louis L'Amour concerning 1946 Paris.
Another article about a French general who collaborated with the Nazis can be read here...
"The Maginot Line will permit calm French mobilization, experts say, in the event of a crisis. It may be noted, from a study of these forts on a map, that the chief point of concentration is approximately opposite the reoccupied Rhine zone. The Paris newspaper, Le Soir, says that no army can break down the Maginot Line."
Click here to read an article about French confidence in the Maginot Line.
Shortly after the German exit from Paris, French writer and philosopher Jean-Paul Sartre (1905 – 1980) put pen to paper in an effort to help explain what the citizens of that city were feeling throughout the German occupation of Paris:
"At first the site of them made us ill; then, little by little, we forgot to notice them, for they had become an institution. What put the finishing touches to their harmlessness was their ignorance of our language. A hundred times I've seen Parisians in cafes express themselves freely about politics two steps away from a blank looking German soldier with a lemonade glass in front of him. They seemed more like furniture than like men."
The French knew as early as 1916 that they would have a man power crises in their future. The Second World War was barley two weeks old when they made it clear to all that they were not going to launch any major offensives against the Germans, but would immediately assume a defensive posture.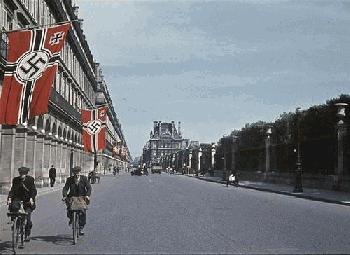 Attached is a translation of the text of the Franco-German declaration signed in Paris on December 6, 1938.
Click here to read about the Hitler-Stalin Non-Aggression Pact.