Shortly before this article went to press, that particular member of the Hollywood film crew called "the director of photography" (DP) was treated a wee-bit better than other crew members were likely to be treated (but not that much better). Granted, the director and producer knew his name and his body of work - but his screen credit was still mixed among all the other names of the crew (if listed at all) - and this article points out that much of that changed in the Thirties.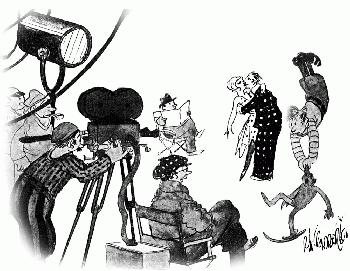 A 1938 magazine article pertains to a brawl that once existed between movie exhibitors and movie producers involving the Hollywood practice known as "block-booking", which required theater owners to commit to movies they have never seen. The article refers to how Hollywood employed their biggest stars to fight legislation in Washington designed to overturn this scheme.
The bill was defeated.
Click here to read about Marilyn Monroe and watch a terrific documentary about her life.
More about the American film business in the 1940s can be read here...
Why should a director risk it all with some anonymous film critic when a he is given the chance to review his own movie? With this thought in mind, Cecil B. DeMille (1883 - 1959) typed up his own thoughts concerning all his hard work on the 1937 film, The Plainsman, which starred Gary Cooper:
"I think 'The Plainsman' differs from any Western we have ever seen for many reasons"
- it is at this point in the article that DeMille rattles-off an extended laundry list of reasons that illustrate the unique qualities of his Western. One of the unique aspects of the film mentioned only by publicists concerned the leading man Garry Cooper, who, being a skilled horseman from his Montana youth, chose to do most of his own riding stunts in the film, including the shot where he rode "hanging" between two horses.
Click here to read a 1927 review of Cecil B. De Mille's silent film, "King of Kings".
Yardley, a cartoonist from KEN MAGAZINE, made this four panel yuk-yuk about Depression era screenwriters and the shoe being on the other foot. Truth be told, the story it tells is as fitting in our own time as it was in the Thirties. Nicely rendered, too.
Click here to read about feminine conversations overheard in the best New York ladies rooms of 1937.
Hollywood scribe Wilbur Morse, Jr. wrote this 1939 magazine profile of Jimmy Stewart (1908 – 1997). At the time of this printing, Stewart had dozens of stage credits and had been working in films for only four years; one year later he would be awarded an Oscar for his performance in PHILADELPHIA STORY:
"Booth Tarkington might have created Jim Stewart. He's 'Little Orvie and Billie Baxter' grown up 'Penrod' with a Princeton diploma."
"The appeal of James Stewart, the shy, inarticulate movie actor, is that he reminds every girl in the audience of the date before the last. He's not a glamorized Gable, a remote Robert Taylor. He's 'Jim', the lackadaisical, easy-going boy from just around the corner."
A magazine profile of RKO Studio Dance Director Hermes Pan (1909 - 1990); his work with Fred Astaire (1899 – 1987) and Ginger Rogers (1911 – 1995) and the lasting impression that African-American dance had made upon him. It is fascinating to learn what was involved in the making of an Astaire/Rogers musical and to further learn that even Bill "Bojangles" Robinson (1878 - 1949) was a fan of the dance team.
"Astaire liked the youngster's blunt answers. He realized the need of a critic who would talk back to a star."