A 1946 article from "Script", a semi-chic Beverly Hills magazine (it went belly-up in 1949), explaining just how it came to pass that a sweet, little Brooklyn girl named Margarita Carmen Cansino became Rita Hayworth (1918 – 1987):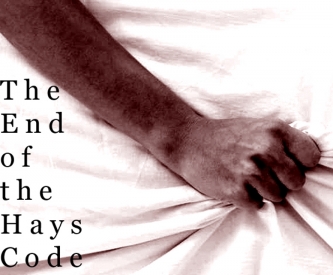 "Then came reincarnation. Rita discarded her Spanish name, gave away her dancing costumes, did something to her hairline, stuck a y into her mother's family name (Joseph Haworth, same family, toured with Edwin Booth) and so on to the big time and 'Cover Girl' and 'Tonight and Every Night'."
"So the girl with a Spanish father and an Anglo-Saxon mother becomes the typical American girl to thousands of American soldiers abroad, and that, too, is as it should be."
Click here to read articles about Marilyn Monroe.
It was 1933 interviews like this one that made the studio executives at RKO go absolutely bonkers; what were they to do with Katharine Hepburn (1907 – 2003)? She simply refused to take all matters Hollywood with any degree of seriousness; although she hadn't been a movie actress for very long at all, Katherine Hepburn was downright impious and goofy when reporter's questions were put to her:
"'Is it true that you have three children?' asked the interviewer."
"'I think it's six,' she answered."
Such responses served only to frustrate the members of the fourth estate to such a high degree and it seemed only natural that the fan magazine journalists would want to have the final word as to who Katherine Hepburn really was...
-But the Hollywood press did like her future co-star Carry Grant, click here to read it.
A 1946 article in which the beloved French actress Edwige Feuillère (1907 – 1998) is personified as the epitome of wounded French Glamor returned to it's rightful place following the hasty retreat of those nasty Huns from the boulevards of lovely Paris:
"Edwige Feuillère, France's Number One actress, is wearing evening clothes again - and all fashionable Paris rejoices. It is a sort of symbol, the blooming of the lovely Edwige into full-panoplied formality. For she, along with most women of France, abstained from festivities and the clothes that go with them throughout the war."

The literati have all agreed: there is no doubt that if Shakespeare were alive today he would live in Beverly Hills, California. He would dwell in a 1930s split-level Persion-conversion, probably on Palm or Roxbury. As a well-compensated screenwriter he would churn-out the standard plots that were expected of him: fish-out-of-water dramadies, romcoms, and (under assorted pen names) a few reality shows; and like the poet whose work is attached, he would write about matters unique to Southern California -valet parking, Cobb Salads -and in this case the Hollywood agent.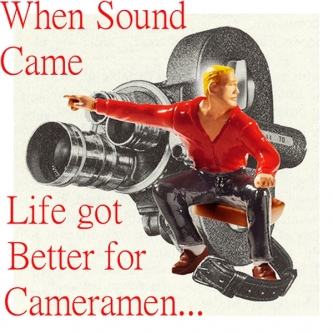 This poem was written by Sydney King Russell (1898 - 1976), who, like Shakespeare, knew that if you're going to write a poem about Hollywood agents, you'll need to crack open the ol' rhyming dictionary to see what rhymes with "ten percent".
This article, I'm an Adopted Mother, by Hollywood movie actress Joan Crawford (1905 – 1977) rambles on column after column about her four adopted children and the tremendous fulfillment they brought to her life. It was all a bunch of hooey, and we might have ended up believing it all, if it weren't for her daughter Christine, who, in 1978, published a bestselling memoir testifying to the beatings that the movie star could be depended upon to deliver regularly; a first edition of the book is available at Amazon - it was titled Mommy Dearest
A printable article from a 1948 Hollywood fan magazine that illustrated quite clearly how much easier Ronald Reagan had it with the Soviet Union, when compared to his failings with his first bride, Jane Wyman (1917 – 2007). The PHOTOPLAY journalist, Gladys Hall, outlined nicely how busy the couple had been up to that time yet remarked that they had had a difficult time since the war ended, breaking-up and reconciling as many as three times. In 1948 Wyman, who had been married twice before, filed for divorce on charges of "mental cruelty"; the divorce was finalized in '49 and the future president went on to meet Nancy Davis in 1951 (marrying in '52); click here if you wish to read a 1951 article about that courtship.
Historically, Ronald Reagan was the first divorced man to ascend the office of the presidency. Shortly after his death in 2004, Wyman remarked:
"America has lost a great president and a great, kind, and gentle man."
Click here read an article about Hollywood's war on monogamy.