A brief 1940 profile of the man President Roosevelt preferred over 33 other generals of higher grade: General George C. Marshall (1880 - 1959):
"His most spectacular military feat occurred during the [First] World War, when, as operations chief of the First Army, he moved 500,000 men and 2,700 pieces of artillery from one battlefield to another without a hitch and without letting the enemy get wind of what he was doing."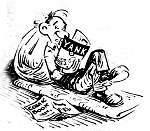 While speaking at the 141st anniversary of the U.S. Military Academy at West Point, Chief of Staff General George Marshall gave a great big shout out to three American generals. Pointing out that all of them were graduates of West Point (as he was) the general could not help but conclude that the Axis didn't have a chance.
An excerpt from General Marshall's introductory essay to his 1945 Biennial Report
for U.S. Secretary of War Henry Stimson concerning the progress and general status of the American Army through the period beginning on July 31, 1943 through June 30, 1945.
Click here if you would like to read an article about 1940s fabric rationing and the home front fashions.
"The tremendous military advantage of this terrifying weapon fell to us through a combination of good luck, good management and prodigious effort. The harnessing of atomic power should give Americans confidence in their destiny..."
Click here to read more magazine articles about the Atomic Bomb.
Click here to read one of the fist opinion pieces condemning the use of the Atomic Bomb.
The Chief of Staff's 1945 report concerning the U.S. Army's progress and set-backs during the course of the war mentioned one element:
"in which the German Army held an advantage almost to the end of the war. The first was the triple-threat 88-mm [field gun] which our troops first encountered in North Africa..."
General Marshall's post-war report remarked on one clear advantage that the German Army was privileged to exploit again and again throughout the war:
"The German ammunition was charged with smokeless, flashless powder which in both night and day fighting helped the enemy tremendously in concealing his fire positions."