Music History - Eric Satie Articles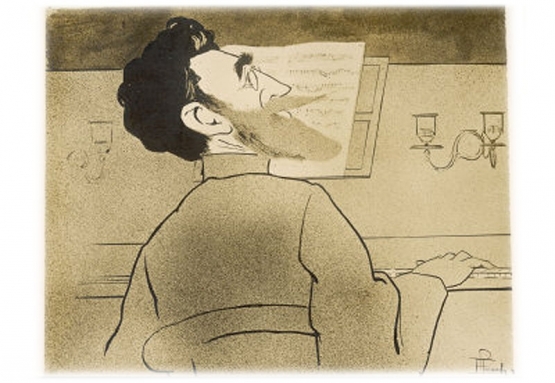 There is little doubt that the French Composer Eric Satie had wished that the bellyaching dilettantes who were charged with the task of writing music reviews for the Paris papers had spent more time in school in order that they might show greater erudition in their writings. However, Satie recognized that we can't change the past and so he took his critics out to the woodshed with this satirical column for VANITY FAIR MAGAZINE:
"The mind of a critic is a store - a department store:
One finds in it a little of everything: science, bedding, the arts, traveling rugs, writing paper (foreign and domestic), history, smokers outfits, languages, umbrellas, belles-letters, humour, eyeglasses, perfumery, etc...
The Critic knows everything."
The attached article is yet another among the several tongue and cheek essays that the French composer Eric Satie (Alfred Éric Leslie Satie 1866 – 1925) contributed for the amusement of the fun-loving readers of VANITY FAIR MAGAZINE. Published just three years prior to his death, it is beautifully illustrated, and stands as one solid page of pure silliness in which Satie considered the place of art in the animal kingdom, and concludes that of all the arts, architecture and music are the only two creative endeavors that the creatures of the field ever seem able to embrace:
"I know of no literary work written by an animal - and that is very sad."
"...But Satie's music is not difficult to play. Almost all the notes in many of his compositions are all the same or a related value. Appogiatura, syncopation, bravura, he is not friendly with. The pieces are written in facile keys for pianists..."
This article was written by Erik Satie as a salute to six unique French composers who had been working in Montparnasse during the previous years.
"To me, the New Spirit seems a return to classic form with an admixture of modern sensibility. This modern sensibility you will discover in certain ones of the "Six" -George Autic (1899 - 1983), Francis Poulenc (1899 - 1963), Darius Milhaud (1892 - 1974)..."