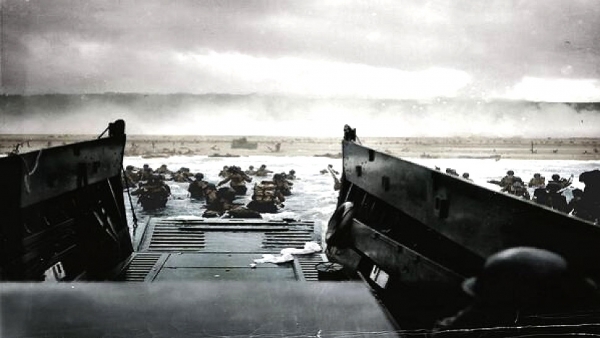 Statistical data concerning the U.S. Army casualties in June and July of 1944 can be read in this article.
"The focal point of the attack apparently was aimed at Le Havre, the fine port at the mouth of the Seine. Nazi reports indicated a series of drives to cut the Brittany Peninsula with the center of gravity at Caen. It seemed certain that the Reich was awaiting news of other attacks."
"That was the way D-Day began, the second front the Allies had waited for for two years. It came like a shadow in the English midnight... The Nazi news agency, DNB, flashed the first story at 12:40 a.m. on June 6, Eastern wartime. Before dawn, British and American battleships were pounding shells into Havre, Caen and Cherbourg, high-booted skymen of the [88th] and 101st U.S.A. paratroop divisions had dropped into the limestone ridges of the Seine valley and landing barges filled with American, Canadian and British infantrymen nosed up to the beaches along the estuaries of the Orne and Seine rivers."
Perched on the quarter deck of an LST off the coast of one of the American beachheads during the D-Day invasion, COLLIER'S war correspondent, W.B. Courtney, described the earliest hours of that remarkable day:
"I stared through my binoculars at some limp, dark bundles lying a little away from the main activities. In my first casual examination of the beach I had assumed they were part of the debris of defensive obstacles. But they were bodies - American bodies."
Translated from German, labeled "CONFIDENTIAL" and printed in a booklet for a class at the U.S. Army Military Academy in 1945 was the attached German Army assessment of the D-Day invasion. Distributed on June 20, 1944, just two weeks after the Normandy landings, the report originated in the offices of Field Marshal von Rundstedt (1875 - 1953) and served to document the German reaction to the Allied Operations in Normandy.
Five years after the invasion, the first war correspondent to land with the Allied Armies on D-Day recalled what that morning was like on Utah Beach.
A three page article about the unique experiences of four American glider pilots on D-Day; how they fared after bringing their infantry-heavy gliders down behind German lines, what they saw and how they got back to the beach.

MORE ARTICLES >>> PAGE: *

1

* 2 * 3 * 4 * > NEXT