Attached are the results of a nationwide survey from 1954 indicating what the American automobile consumers were shopping for in cars:
• 54% preferred whitewall tires over any other kind
• 68% preferred push-button door handles
• 59% wanted jet-age hood ornaments
• 44% wished that dashboards were loaded with dials and gauges
Much of the credit for the success of Volkswagen immediately after the war was due to the visionary leadership of Volkswagen CEO Heinz Nordhoff (1899 - 1968), who was able to assess the faults of the existing model and make the necessary improvements: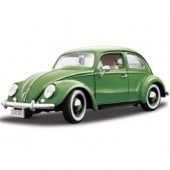 "The power was low, and the engine had a life of only 10,000 miles. Nordhoff brought in new experts who redesigned every vital component, working on the original pre-war designs of Ferdinand Porsche... The new car was quieter and more powerful, and had hydraulic brakes and shock absorbers. Soon, models with luxury touches were introduced."
Few realize that when we applaud the tremendous style that went into so much of the design of 1950s American cars, we are actually praising the fertile mind of Harley J. Earl (1893 – April 10, 1969):
Earl, who served as the Vice-President of Design at General Motors, conceived of so many design elements that are associated with that period, such as wrap-around windshields, tail-fins and two-tone paint styling. In the attached article, written when he was at the top of his game, Harley Earl tells his readers what is involved in automobile design:
"Shakespeare has told us 'neither a borrower nor a lender be'. An automobile stylist must be both. He must borrow his ideas from the creatures and creations of nature which are all about him..."
A one page essay by automobile-stylist William H. Graves, a former Vice President and Director of Engineering at the Studebaker-Packard Corporation.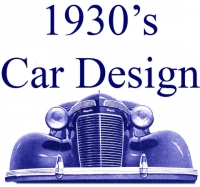 "Two years ago a new product philosophy was approved at Packard which gave the engineering department a green light that had not been on since 1935. This enabled us to set up a program to style future cars for the luxury field...The Packard program was launched in October, 1952, with the formation of a new styling group of young men, whose average age was 28. An advanced design section and a special section to experiment with plastics as a possible material for both parts and dies were established."
Click here to read the obituary of J.M. Studebaker.
A 1956 article by Eugene Bordinat (1920 - 1987), one of Detroit's grand old men of automotive design; during his reign at Ford, Bordinat oversaw the styling of such cars as the Mustang and the Falcon:
"The average American likes to think that he is an independent thinker and a rugged individualist, while actually he is closer to a sheep and follows the herd. He resists change. He wants just enough change in cars so his neighbors will know it is the latest model, but not so much that he has to explain to his friends why he bought the strange contraption...The stylist must consider these factors when he out-lines his advanced thinking on trim and color...he must be sure that the scheme isn't so radical that it will frighten the color-timid public."