"Just back from South America, COLLIER;S correspondent reports on the totalitarian government in Argentina, it's link to Hitlerism, and what to do to guard our future security."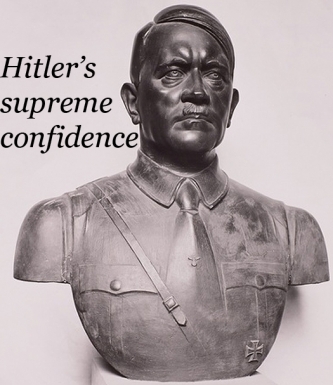 "The Argentine government has harbored spies and saboteurs. Colonel Frederic Wolf, the Himmler of the German Embassy and the latest director of the real Nazi spy ring, remained in Buenos Aires until quite recently. Our military forces have plenty of evidence that Allied ships have been sunk, and American lives have been destroyed as a result of information broadcast from Argentina to U-boat commanders."
Click here to read about the headache that was Evita Peron.
Subhas Chandra Bose (1897 – 1945) spent much of the Twenties and Thirties brainstorming with Gandhi and Nehru as to how best they might secure sovereignty for their beloved India. By 1939 Bose broke ranks with his fellows at the Indian National Congress, believing that British rule would end a good deal quicker if the Indians signed on with the Axis.
Léon Degrelle (1906 – 1994) was a Belgian con-man and Nazi collaborator:
"Handsome, plausible and glib, politics eventually appealed to him as a field for his talents, but repeated bids for office resulted in defeat. Nothing seemed more certain than that the 'man with the electric voice' would remain a local windbag, but in 1935, Adolf Hitler began the development of fifth columns in other countries, and Léon Degrelle was his choice in Belgium."
This article is essentially an indictment of French General Charles Nogues (1876 - 1971), once the reigning governor-general of French Morocco - who was accused of beating the rush and selling-out early to the fascists before France had even collapsed:
More primary source articles about W.W. II France can be read here...
This article is about the founder of the British Union of Fascists, Oswald Mosley
(1896 – 1980). The article outlines much of his life and political career up to the year 1938, with heavy emphasis concerning some of the least admirable aspects of his character
"His father's comment sums Mosely up admirably: 'He has never done an honest days work in his life.'"
Click here to read about the origins of Fascist thought...
Cabled from Santiago, Chile came this report that on May 7, 1933 the broad-belted boulevards of that grand city were filled with 15,000 Chilean fascists, cheered on by a crowed that was estimated at a number higher than 400,000 - a throng composed almost entirely of citizens who had all come to see the first parade of the Nacional Milicia Republicana:
"Along the lines of the march there were many demonstrations for the Fascists, and a few against them. Women tossed flowers from flag-bedecked windows. Domingo Duran, Minister of Education and Justice, a regimental commander of the militia, received almost continual applause."
"A squadron of Fascist planes flew overhead as the units, unarmed, and marching to airs played by two dozen bands and fife corps, moved through the spacious Boulevard Alamada, past the Presidential Palace to the Plaza des Aramas."
From Amazon: Chile and the Nazis: From Hitler to Pinochet