Well, here they are: the songs of the Nazi hit parade - all the ditties you've loved tapping your toes to - songs like "Storm Troops on the March","Up, Up, To Strife", "Nation to Arms" and who can forget that old classic: "Horst Wessle Song"...
It doesn't get much better than this.
Click here to read about the origins of Fascist thought...
"Numbers hardly count in estimating the book-burning festival in Germany on May 10 [1933]....Reports range from an estimate of hundreds to tens of thousands of books burned."
American columnist Walter Lippmann of the NEW YORK HERALD TRIBUNE wrote:
"They symbolize the moral and intellectual character of the Nazi regime. For these bonfires are not the work of schoolboys or mobs but of the present German Government acting through its Minister of Propaganda and Public Enlightenment."
CLICK HERE to read an article from 1923 about the abitious Adolf Hitler.
One of the kindest things you could possibly say about the Nazis is that they were "sexists" - and if you wanted to back your thesis up with anecdotes, facts and figures, you would read the attached article from 1933:
"To say that woman's place is in the home is understatement, so far as Adolf Hitler is concerned. Certainly she's not to be allowed in the library. Intellectual life, as well as all business and legal affairs, is a purely masculine enterprise in the Third Reich. And the women, most of them, in hysterical devotion to their leader, obey. Mr. Quentin Reynolds, in a series of brilliant pictures, presents the women of modern Germany; triumphant and desperate."
The Nazis were not too chauvinistic: 10% of the jobs in your average concentration camp were filled by women.
CLICK HERE to read about the beautiful "Blonde Battalions" who spied for the Nazis...

"Many of the jokes that are at present circulating the land of Hitleria cannot be told quite openly. They are whispered among friends. The traffic is great and much whispering going on. Many people want to laugh. It seems a necessary release..."
- so observed one journalist fresh from his whirlwind journey through Hitler's Germany. He could not help but notice how painfully neurotic the Reich leadership was of being the object of Teutonic derision. This article is about the underground society of whispered jokes that the Nazis created; the journalist was good enough to write-up a few so that the free-world could take place in the chuckle-fest (some were lost in translation).
A look at the observations made by a correspondent for THE LONDON OBSERVER who compared the two dominate tribes found in 1933 Berlin and Moscow. The writer was far more distracted by the similarities in their street hustle and their sloganeering rather than their shared visions in governance and culture; for example, both Nazis and Communists were attracted to restrictions involving speech, assembly and gun ownership while sharing an equal enthusiasm for May Day parades and the color red. Additionally, both totalitarians had their preferred dupes: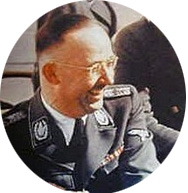 "Absolute ideas invariably demand victims; and the ruthless treatment which is deliberately meted out to Jews in Germany is closely paralleled by the creation in the Soviet Union of a sort of pariah caste of Lishentsi or disenfranchised persons."
Germany never celebrated May Day with public parades until Hitler came to power; May Day was made a national holiday and all employers were given the day off with pay.
Read another article that compares Communism and Nazism...
A 1938 article covering the ascent of Reichfurhrer-SS Heinrich Himmler (1900 - 1945):
"Himmler has dossiers on every man of substance in Germany. Nazi party functionary, business leader, churchman, diplomat, army officer or statesman; all are nicely indexed for the day when their case histories might be needed in a hurry. Because in Germany, everyone is suspect. Some Nazis will even tell you that Himmler has a dossier on himself."
Click here to read an eyewitness account of the suicide of Himmler.
Click here to read about the dating history of Adolf Hitler.